Stone Crab Research at the Fish and Wildlife Research Institute
Stone Crab Research at the Fish and Wildlife Research Institute
The Crustacean Fisheries group at the Florida Fish and Wildlife Conservation Commission's (FWC) Fish and Wildlife Research Institute (FWRI) studies two species of stone crabs: the Florida stone crab (Menippe mercenaria) and the Gulf stone crab (Menippe adina). Stone crabs are managed as one species by FWC.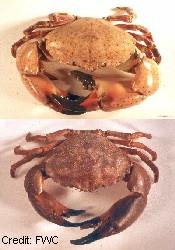 Florida Stone Crab and Gulf Stone Crab
A stone crab trapping study that began in 1988 in the Tampa Bay area continues today. We also began trapping studies in southwest Florida in January of 2005 and in the Big Bend region in January of 2006 which follow the same protocols.  Every two weeks, FWRI scientists pull trap lines of five traps each.  In Tampa Bay we sample near the mouth of the Bay with four trap lines; in SW Florida we sample in three areas of the Keys and near the Everglades with four trap lines in each area; in the Big Bend region we sample in Homosassa, Cedar Key, Steinhatchee, and St. Marks with four trap lines in each area.
The standard, plastic stone crab traps are baited with fish (usually mullet). Crabs captured in the traps are measured, checked for injuries and regeneration, reproductive state, and molt condition. Bottom-water temperature, salinity, dissolved oxygen and pH are recorded, as is bycatch (any animals in the trap besides stone crabs) and trap condition (i.e., open or closed, intact wooden slat, broken trap). In all, biologists may record up to 68 variables for each crab.
Every four weeks researchers clean the traps by scraping off accumulated organisms, such as barnacles and algae. This fouling community is the perfect habitat for juvenile stone crabs, so scientists take this opportunity to count the number of juveniles per trap and measure each juvenile's carapace width (widest part of the shell); these data provide information on the recruitment (growth to legal size) of young stone crabs into the bay. Data collected during these projects are providing new insights into the population biology of the stone crab and the stone crab fishery. Information such as changes in catch rates, shifts in sex ratios, and correlations between juvenile and adult abundances may help FWC better manage these species in the future.
Past stone crab research conducted by the Crustacean Fisheries group included the following studies:
A trapping study in northwest Florida
An analysis of the temperature and salinity tolerances of larvae and juveniles
A study of the effect of water-borne diesel fuel on juveniles
A comparison of the biology of hybrid stone crabs to the two pure species