Florida Horseshoe Crab Watch-Linked with Limulus
Florida Horseshoe Crab Watch-Linked with Limulus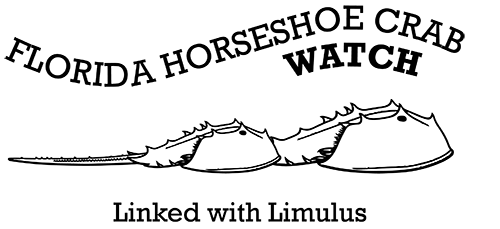 BECOME A CITIZEN SCIENTIST!
In 2015, FWRI and the University of Florida launched a citizen science initiative which trained volunteers to assist biologists in surveying, tagging and resighting Florida's nesting horseshoe crab populations using a standardized scientific protocol.  The program has been so successful that FWC is expanding our efforts to a statewide level. 
Current sampling areas include beaches in Hernando, Hillsborough, Pinellas, Brevard, Manatee, Volusia, Indian River, Martin, Franklin, Nassau, Dixie, Levy and Taylor counties. We are actively working to incorporate sites in Monroe, Sarasota, Charlotte, Lee, Palm Beach, Collier, Miami-Dade, and Broward counties. We hope to expand even more in the coming years.
Survey results are published seasonally and include the number of animals sighted, tagged and resighted in a given area. View a sample of the program information and data gathered in the Cedar Key area from 2017.
If you are interested in assisting with surveys going on in your area, or would like to suggest a location for inclusion into the program, contact:
Berlynna Heres
(727) 896-8626
Berlynna.Heres@myfwc.com
Florida Horseshoe Crab Watch Locations
Active and future Florida Horseshoe Crab Watch survey locations. Each county has one or more volunteer coordinators and may survey multiple beaches. We currently survey and tag horseshoe crabs at 34 beaches throughout Florida.
Contact Your Local Site Coordinator