Florida Horseshoe Crab Watch-Linked with Limulus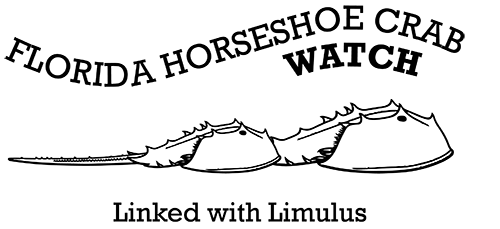 BECOME A CITIZEN SCIENTIST!
In 2015, FWRI and the University of Florida launched a citizen science initiative in which trained volunteers assist biologists in surveying, tagging and resighting Florida's nesting horseshoe crab populations utilizing a standardized scientific protocol.  The program was so successful that we are expanding our efforts to a statewide level.  
Current sampling areas include-Cedar Key in Levy county, New Smyrna Beach In Volusia county, and Fort Desoto in Pinellas county.  In fall 2017, we incorporated two sampling areas in Bald Point State Park in Franklin county and in spring 2018 we will begin sampling three beaches in Fort Clinch State Park in Nassau county. 
Survey results will be published seasonally and will include number of animals sighted, tagged and resighted in a given area. View a sample of the program information and data gathered in the Cedar Key area. 
If you are interested in assisting with surveys going on in your area, or would like to suggest a location for inclusion into the program, contact:
Claire Crowley
(727) 896-8626
claire.crowley@myfwc.com