Coastal Habitat Integrated Mapping and Monitoring Program (CHIMMP)
Coastal Habitat Integrated Mapping and Monitoring Program (CHIMMP)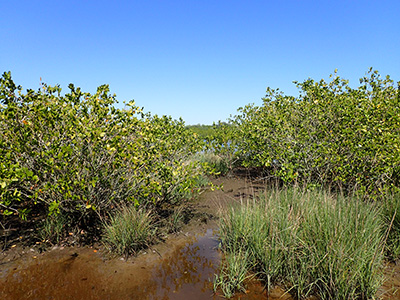 Salt marshes and mangroves comprise essential fisheries habitat in Florida. Statewide estimates of salt marsh (739,000 acres) and mangrove area (674,000 acres) are outdated and need to be revisited. Recent episodes of marsh mortality have also focused attention on the vulnerability of these important fisheries habitats to disease and potential loss. Future sea-level rise is expected to cause fragmentation of salt marsh and loss of acreage where hardened shorelines and other obstacles prevent the landward migration of salt marsh grasses. Mangrove distribution is also changing in response to climate change and sea-level rise, as well as shifts in marsh habitats. Thus, a coordinated statewide mapping and monitoring program is necessary in order to protect Florida's vulnerable coastal habitats, and the numerous species that depend upon them. 
The Coastal Habitat Integrated Mapping and Monitoring Program (CHIMMP) was funded by Florida's State Wildlife Grants Program from 2013-2017 in order to support the study of high priority coastal habitats and meet requirements of the State Wildlife Action Plan. CHIMMP's goals included bringing together representatives from mapping and monitoring programs across the State in order to increase communication, minimize duplicate efforts and identify data gaps, needs, and priorities. Three CHIMMP workshops were held at the Fish and Wildlife Research Institute in St. Petersburg, Florida in April 2014, September 2015, and January 2017 to bring together coastal wetland scientists and managers from across Florida.
Learn more about the CHIMMP workshops.
Workshop participants and CHIMMP partners collaborated to write a statewide technical report that was published in 2017. This report summarizes regional mapping and monitoring programs for salt marshes and mangroves as well as the status of coastal wetlands in Florida.