MarineQuest School Daze Program
MarineQuest School Daze Program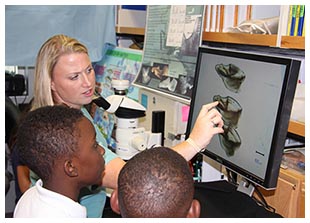 A fun, free, hands-on field trip for students in grades four through eight.
In 1995, the Fish and Wildlife Research Institute (FWRI) held its first MarineQuest open house. The event was created to inform the public about the research performed at the institute and to introduce the community to the world of marine science. The following year, MarineQuest expanded; FWRI added a second day to provide local schools and students with an opportunity to visit the institute.
In the years that followed, MarineQuest evolved into a three-day event that now welcomes thousands. The first two days are held on Thursday and Friday. This accommodates students in grades four through eight who are invited to participate in "School Daze," a special version of MarineQuest available to schools by registration only. Students tour lab stations managed by FWRI scientists. Vibrant exhibits with hands-on displays and activities draw students into the world of fish and wildlife research and the fascinating things that FWRI scientists discover.
About
The MarineQuest School Daze program is two-and-a-half hours long. During the half-hour introductory program in the Karen A. Steidinger Auditorium, students learn about the institute through interviews with staff researchers, combined with footage of scientists in the field. The remaining two hours are spent visiting six of the lab stations on display. Tours are organized ahead of time, and FWRI staff members act as tour guides. At the lab stations, researchers use hands-on demonstrations and activities to explain individual research projects to the students.
Dates
MarineQuest School Daze 2020 will be held on Thursday, October 15 and Friday, October 16.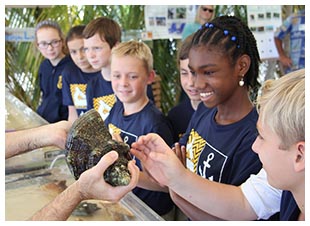 Tour Times
Four tour sessions are offered on each of the two days of the School Daze program.
Tour Sessions:
8:45 am – 11:30 am
9:45 am – 12:30 pm
10:45 am – 1:30 pm
11:45 am – 2:30 pm
Display Topics
Displays, crafted and staffed by FWRI employees, will highlight the numerous research projects of the FWC Fish and Wildlife Research Institute. Past topics highlighted have included fish feeding ecology, marine turtles, sharks and rays, Florida's habitats, manatees, coral reefs, red tide, shorebirds, bay scallops, spiny lobster, and freshwater and saltwater fish. Most displays include hands-on activities and games and several displays include live critters in touch tanks.
How to Register
Registration for MarineQuest School Daze 2020 will begin in the fall, once the 2020-2021 school year is underway. A registration date will be posted to this webpage once it has been selected.
Location
MarineQuest School Daze is held at the headquarters of the FWC Fish and Wildlife Research, located in downtown St. Petersburg. 
Our physical address is 100 8th Avenue SE, St. Petersburg, FL 33701.
Cost
Attendance at MarineQuest School Daze is FREE! However, registration is required. In addition, schools are responsible for their transportation to and from the event.
St. Petersburg Science Festival
Important note – MarineQuest IS NOT the same program as the St. Petersburg Science Festival "Sneak Peek" School Day. For information about that program, please visit their website.