Seminole Ranch Wildlife Management Area
Seminole Ranch Wildlife Management Area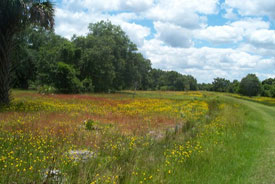 Managed in cooperation with
St. Johns River Water Management District
Seminole Ranch WMA is approximately 6,000 acres and is part of the nearly 30,000-acre Seminole Ranch Conservation Area. This area, 20 miles east of Orlando and 10 miles west of Titusville, is bounded on the east by the St. Johns River and on the south by SR 50. The area is a mosaic of open pastures, river marsh, hardwood, and cabbage palm hammocks. Seminole Ranch Conservation Area is part of the Great Florida Birding and Wildlife Trail. A diversity of migratory and resident wading birds and waterfowl are frequently found here, and occasionally, roseate spoonbills, white pelicans, bald eagles, and sandhill cranes are present. Migratory songbirds in season, painted buntings, and turkeys are present in the hammocks.
Add your bird observations to the Seminole Ranch WMA eBird Hotspot.
Recreational activities include hunting, fishing, wildlife viewing, horseback riding, hiking, primitive camping, paddling, boating, bicycling, and picnicking. On the area are 4.3 miles of the Florida National Scenic Trail. White-tailed deer, turkey, and small game hunting are good on this area. Camping is permitted only at the designated through-trail campsites along the Florida Trail for hikers accessing the area by means of the Florida National Scenic Trail.  Children under the age of 16 are required to wear a helmet when horseback riding on public lands.  For more detailed information go to Nicole's Law.  All horseback riders must have proof of current negative Coggins Test results for their horses when on state lands. Horses are prohibited during hunting seasons. Trails on the area are seasonally flooded. For additional information, a recreation guide is available from the St. Johns River Water Management District.
Rules Regarding Dogs
For purposes other than hunting, dogs are allowed, but must be kept under physical restraint at all times.
Hunting with dogs is prohibited, except that dogs may be used during the wild hog-dog season and bird dogs may be used during the small game season. During wild hog-dog season, hunting with more than 3 free-running dogs per hunting group is prohibited. Dogs on leashes may be used for trailing wounded game.
Dogs are prohibited in areas posted as "Closed to Public Access" by FWC administrative codes. No person shall allow any dog to pursue or molest any wildlife during any period in which the taking of wildlife by the use of dogs is prohibited.
More Information