Ocala Wildlife Management Area
Ocala Wildlife Management Area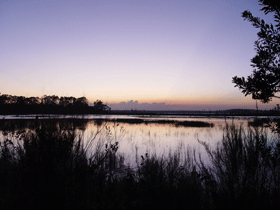 Managed in cooperation with U.S. Forest Service.
Ocala WMA is part of the Ocala National Forest, the oldest national forest east of the Mississippi River. The forest contains the largest concentration of sand pine in the world as well as some of the best remaining stands of longleaf pine in central Florida. Its nearly 400,000 acres are located in Lake, Marion, and Putnam counties, and contain several hundred lakes, as well as Salt Springs, Silver Glen Springs, Alexander Springs, and Juniper Springs. Salt Springs and Alexander Springs are part of the Great Florida Birding and Wildlife Trail.
Add your bird observations to the following eBird Hotspots:
Ocala National Forest - Riverside Island
Ocala National Forest - Forest Road 88
Ocala National Forest - Davenport Landing Campground
Ocala National Forest - Lake Delancy Recreation Area
Ocala National Forest - Forest Road 66
Ocala National Forest - Lake Kerr
Ocala National Forest - Salt Springs
Ocala National Forest - Hopkin's Prairie
Ocala National Forest - Hughes Island
Ocala National Forest - Yearling Trail
Ocala National Forest - Juniper Creek
Ocala National Forest - Wildcat Lake
Ocala National Forest - Juniper Springs
Ocala National Forest - Lake George Road
Ocala National Forest - Blue Creek Lodge and Lake George Road Intersection
Ocala National Forest - ORV Trail
Ocala National Forest - ORV Parking and Powerline Cut
Ocala National Forest - Big Scrub Campground
There are many black bears in the area, as well as wild turkey, bald eagles, Florida scrub-jay, white-tailed deer, gopher tortoise, alligators, and eastern indigo snake. Look for red-cockaded woodpeckers in the longleaf habitats.  Migratory songbirds are seasonally abundant along the wooded trail to Salt Springs. On the drive to Alexander Springs you may see scrub-jays perched on the electric wires.
Swimming, boating, water skiing, kayaking, and paddling are popular activities. Camping opportunities include group sites, RV/tent sites, and primitive camping sites. There are visitor centers, nature trails, and a more than 50-mile section of the Florida National Scenic Trail. The Paisley Woods Bicycle Trail is a challenging 22-mile-long ride through live oak hammocks, grassy prairies, and pinelands. The Ocala One Hundred Mile Horse Trail consists of three sections through sand pine scrub, longleaf pinelands, and grassy prairies.  Children under the age of 16 are required to wear a helmet when horseback riding on public lands.  For more detailed information go to Nicole's Law.  All horseback riders must have proof of current negative Coggins Test results for their horses when on state lands. Hunting, fishing, wildlife viewing, picnicking, hiking, off-road riding, and a shooting range offer additional recreational opportunities. There are also several wilderness areas for visitors seeking primitive conditions and solitude.  Of these wilderness areas, Juniper Prairie Wilderness is the only one with foot trails.  The other three wilderness areas are mostly inaccessible.
Rules Regarding Dogs
For purposes other than hunting, dogs are allowed, but must be kept under physical restraint at all times.
Hunting dogs may be taken onto the WMA after 8 a.m. the day before the opening of a season and shall be removed by 6 p.m. one day after the end of the season. Hunting deer with dogs is only allowed in the Pipeline and Church Lake units during the general gun season, but not during the general gun still season in the Church Lake Unit. Hunting with dogs is prohibited in the Hopkins Prairie and Lake Delancy Units, except bird dogs and retrievers are allowed during the small game, dove and waterfowl seasons. Caged or leashed hunting dogs may be transported on established numbered roads in the Church Lake, Hopkins Prairie and Lake Delancy Units. Dogs may be used to pursue rabbits from January 9 through April 15 in that portion of the Pipeline Unit south of S.R. 40 and west of S.R. 19. Deer dogs may be trained only in the Pipeline Unit from October 29 through November 7 from 1/2 hour before sunrise until 1/2 hour after sunset.  Dogs on leashes may be used for trailing wounded game.
Dogs are prohibited in areas posted as "Closed to Public Access" by FWC administrative codes. No person shall allow any dog to pursue or molest any wildlife during any period in which the taking of wildlife by the use of dogs is prohibited.
More Information