Gulf State Waters
Minimum Size Limit: 15" fork length
Daily Bag Limit: 1 per person
Season: Closed in Gulf state and federal waters starting May 11 until federal waters reopen. 
Atlantic State Waters
Minimum Size Limit: 12" fork length
Daily Bag Limit: 10 per person
Season: Open year-round
Other Regulations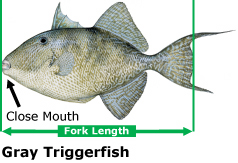 Gear Requirements:
Legal Gear: hook and line, spears, gigs
Federal Waters:
Gulf of Mexico: Closed (Learn more.) 15" FL; 1 fish bag limit within 20 reef fish aggregate. 
Atlantic: 14" FL; included in the 20 fish snapper grouper aggregate bag limit.