Gulf State Waters
Minimum Size Limit: 15" fork length
Daily Bag Limit: 1 per person
2020 season: Open March 1-May 1 and Sept. 1-Oct. 25 (closed starting Oct. 26)
Atlantic State Waters
Minimum Size Limit: 12" fork length
Daily Bag Limit: 10 per person
Season: Open year-round
Special regulations apply for this species when fishing in Biscayne National Park.
In the Atlantic reef fish fishery, gear rules require dehooking tools, and as of Jan. 1, 2021, non-stainless steel hooks in all state waters, and non-offset circle hooks N. of 28 ° N. latitude.
Other Regulations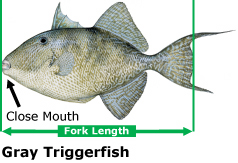 Gear Requirements:
Legal Gear: hook and line, spears, gigs
Federal Waters:
Gulf of Mexico: Open March 1-May 1 and Sept. 1-Oct. 25. Learn more.  15" FL; 1 fish bag limit within 20 reef fish aggregate. 
Atlantic: 12" FL; up to 10 per person within the 20 fish "other" snapper grouper aggregate bag limit