U.S.S. Oriskany (CVA-34) nicknamed the Mighty O, is the first naval warship and largest artificial reef ever to be intentionally sunk in U.S. coastal waters. Built shortly after World War II, the Oriskany is 911 foot in length and could hold up to 80 planes. After completing 25 years of service, primarily in the Pacific, earning two battle stars for service in the Korean War and five battle stars for service in the Vietnam War, the Oriskany was decommissioned in September 1976.
As a joint effort between U.S. Navy, Florida Fish and Wildlife Conservation Commission (FWC), and Escambia County, the USS Oriskany was sunk on May 17, 2006, approximately 22.5 nautical miles South East of Pensacola Pass at a depth of 212 feet.  
The FWC encourages all scuba divers choosing to dive the Oriskany artificial reef to establish a plan for a safe and enjoyable dive experience. 
FWC has compiled this page to help acquaint divers with some specific issues related to the Oriskany artificial reef and to remind divers of some basic scuba safety protocols that should be applied for a safe dive.  
Due to its depth, distance from shore, and potential currents, all divers should gain appropriate training, equipment, fitness and experience before diving the Oriskany. At all times, divers should follow the guidelines and safe diving practices provided during their training.
The Oriskany is sitting upright on the seafloor in a north-south orientation with the bow facing due south.
The uppermost structure of the Oriskany is located at:
Latitude 30 degrees 2 minutes 33.3 seconds north (Lat 30° 2.555' N)
Longitude 87 degrees 0 minutes 23.8 seconds west. (Lon 87° 0.397'W)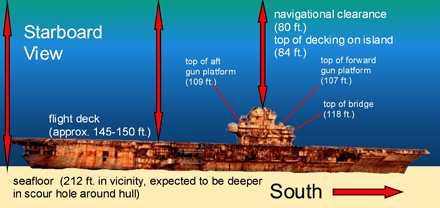 Divers are reminded that conditions change over time as the structure is influenced by currents, scouring, and storm events. Additionally, steel artificial reef materials, such as the Oriskany Reef, will gradually experience structural changes as metal components naturally corrode in the marine environment.
Due to past storms and settlement over time, the Oriskany Reef depths have changed. We encourage all divers to speak with local dive shops prior to planning your dive to determine the most recent dive conditions on the Oriskany and plan accordingly.
FWC recommends that divers should not enter the ship under any circumstances due to the ship's interior and the unknown extent of structural damages caused by the reefing process and natural changes over time. Divers should not remove any items from the ship (it is against the law). All recyclable materials of value have been previously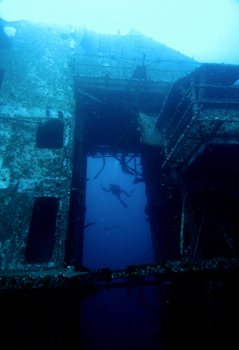 removed. There is nothing inside the ship worth dying for!
Please keep in mind these basic SCUBA safety tips:
Never dive beyond your training level. Going below a depth of 135 feet requires technical training and special equipment.
Divers should have advance training to go beyond 100 feet
Plan your dive and dive your plan.
Always us the buddy system and know your buddy's gear.
Maximum depths should be planned based on the buddy with the lowest level of training, experience, proficiency and equipment.
Be aware of your starting location and the location of your descent/ascent line.
Begin the dive swimming into the current to conserve energy and return with the current
Dive your deepest part of the dive first, stay a very short time.
Plan on a very slow accent.
Plan on doing a longer safety stop, (5 minutes at 15 feet instead of the normal 3 minutes).
Always stay hydrated.
Always have someone at the surface and never leave your boat unattended while diving.
Always carry a visual signal device such as an inflatable 'safety sausage' to signal your location in the event you and/or your team become separated from your anchor line and surface away from your boat.
Always check the marine forecast and use safe boating practices while traveling to and from the Oriskany.
Safe Diving,
The FWC Division of Marine Fisheries Management, Artificial Reef Program