Hillsborough County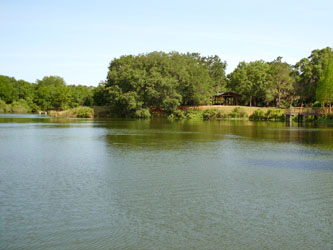 Formerly known as Pleasant Grove Reservoir, this 770-acre reclaimed phosphate mine within Edward Medard Park is located in Hillsborough County, approximately six miles east of Brandon, one mile south of State Route 60 on Turkey Creek Road. The park, maintained by the Hillsborough County Parks and Recreation Department, has facilities for fishing, boating, canoe rental, picnicking, camping, hiking, and swimming. The reservoir was impounded in 1970 and is very popular, with approximately one-quarter million visitors annually. Medard Reservoir is a fertile and productive impoundment with extensive, irregular shoreline. Bottom contours of the lake are very irregular as well, with an average depth of nine feet and maximum depth of 33 feet. Kissimmee grass, bulrush (buggy whips), and cattail are the predominant vegetation. Sunshine bass (striper hybrids) are stocked on a regular basis and channel catfish are very abundant. The many ledges and bars (flats) within the main body of the reservoir are productive for all species, but key in on the shoreline grass for largemouth bass in winter and spring. Due to the convoluted nature of the reservoir there is a no wake restriction (idle speed only) on boats for safety purposes.
For more information contact the FWC Southwest Regional Office at 863-648-3200.
Black crappie (specks) fishing should be good up until late April when water temperatures start to warm. Try drifting live Missouri minnows, or trolling with Hal flies and small spinners in open water areas over humps, drop-offs, and the rock piles that were created during renovations in the main reservoir. For more information on the location of fish attractors, visit the interactive fish attractor map found on our website. As the water temperatures rise, many anglers will switch over to fishing for bluegill (bream) and redear sunfish (shellcracker). Fish with crickets, grass shrimp, and red wigglers under a cork around shoreline structure (overhanging trees) and Kissimmee grass. Sunshine bass are stocked annually in Medard Reservoir and offer anglers with a unique fishing experience. These feisty fish are ravenous schooling predators, so if you're having a slow day fishing for your targeted species, give them a try! They can be caught when drifting live Missouri minnows in open water over the humps and rock piles. Anglers can also try throwing rattle-traps or jerkbaits around the dam and hang on, these fish can put up a good fight! Catfish are plentiful and can be caught using chicken livers, frozen shrimp, night crawlers, or any commercial stinkbaits fished on the bottom. The reservoir has been stocked with approximately 5,600 adult bass since 2012, with multiple fish weighing over 8 pounds. Be on the lookout for tagged bass. Tags are yellow and located on the back (dorsal) of the fish. If you catch a tagged fish, remember to remove the tag. You will need it to collect your $100 reward! As the spawning season tappers off, bass will be feeding heavily to recover from this stressful time. Fish drop offs and rock piles with big artificial worms and "creature" bait style plastics in red shad, Junebug, or black and blue colors to find some of these big bass looking for an easy meal. Don't be afraid to pick up your cranking stick and fire a shad colored crankbait along these same areas to activate the schools relating to the underwater structure. Tight lines!
Popular Species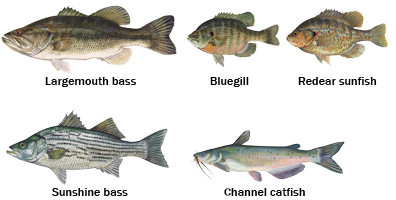 Fish graphics by Duane Raver, Jr.
More species information is available for:
Largemouth bass, Bluegill, Redear sunfish, Sunshine bass, Channel catfish

TrophyCatch Tracker
TrophyCatch is FWC's citizen-science program that rewards anglers for documenting and releasing trophy bass 8 pounds or larger. The following TrophyCatch bass have been submitted from Edward Medard Reservoir:
Lunker Club (8 – 9.9 pounds): 4