Ocala National Forest Lakes
Ocala National Forest Lakes
Lakes & Marion counties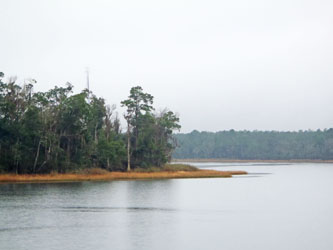 There are approximately 600 natural lakes in the Ocala National Forest with lakes Bryant, Mill Dam, Kerr, Crooked, Wildcat, Lou Echo, Grasshopper, Eaton and Quarry Fish Pond being the most popular. A booklet titles "Fishing Opportunities in the Ocala National Forest" by the Ocala National Forest Interpretive Association is available at the Visitors Welcome Center at the intersection of S.R. 40 and C.R. 315. This booklet describes sport fishing locations, with recommendations for fishing methods and accessibility, as well as a topographic map.
Note: Lake Wildcat has a special regulation requiring all largemouth bass to be released immediately.
As we move into February and March, the largemouth bass fishing should begin to peak. Fish will begin spawning when water temperatures reach 65 degrees. Fishing in the shallows where fish spawn can produce good results. Lake Kerr is a sure bet to catch lots of small fish, with the possibility of some giant bass. For more consistent catches of moderate to large sized bass, Lake Bryant or Wildcat Lake would be a good bet. Targeting areas with moderate vegetation with soft plastics or weedless spinnerbaits can produce well. Lake Bryant was at one time a very productive crappie lake but, has not been very productive for crappie fishing as of late. To give anglers something to fish for, FWC stocked sunshine bass into Lake Bryant again in April 2018. Hybrid Striped bass (sunshine bass) have been stocked into Lake Bryant since 2012. The best way to catch them is to locate a shad school, and fish just under the school, the sunshine's are usually close by.
Popular Species

Fish graphics by Duane Raver, Jr.
More species information is available for:

TrophyCatch Tracker
TrophyCatch is FWC's citizen-science program that rewards anglers for documenting and releasing trophy bass 8 pounds or larger. The following TrophyCatch bass have been submitted from the various Ocala National Forest Lakes:
Lunker Club (8 – 9.9 pounds): 39
Trophy Club (10 - 12.9 pounds): 12
Hall of Fame Club (13+ pounds): 2