Lower St. Johns River and Lakes
Lower St. Johns River and Lakes
Brevard, Flagler, Lake, Orange, Putnam, Seminole, St. Johns & Volusia counties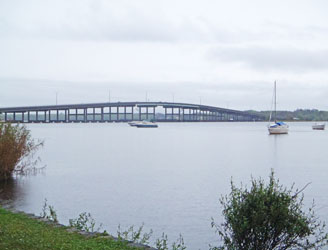 Lower St. Johns River and Lakes: This one-hundred forty mile stretch of the St. Johns River flows north through, or is connected to, more than a half dozen natural lakes ranging from 380 acres to 40,000 acres in size (Little Lake George, Lake George, Lake Dexter, Stagger Mud Lake, Lake Beresford, Lake Monroe, Lake Jesup, Lake Harney, and Puzzle Lake).  Habitats are very varied.  The stretch between Puzzle Lake and Lake Harney is shallow with ample sandbars and wide, flat expanses of floodplain.  Lake Harney to Monroe is deeper with some small side channels and braiding as the river approaches Lake Monroe. The reach between Lake Monroe and Lake George has been channelized in some areas and lacks the sandbars.  It has numerous oxbows branching off the river.  The stretch above Lake George is more tidally influenced and has more marine species, with deeper waters and steeper shoreline drop-offs.
For listings of fish camps or for further information please contact our fisheries office in Ocala at 352-732-1225 or consult the Northeast Region Freshwater Fishing Guide.
Bass anglers can expect to find bass hiding in around docks and pilings. Anglers can also target edges of river banks, sharp bends, and drop-offs near shallow bars. Traditional methods for taking bass will work. Swimming plastic worms/jerk baits and twitching shallow-running minnow imitations are the choice among many bass fishermen. Fish deep in colder waters for bass and panfish.
Cooling water temperatures should turn on striper movement and the striper bite. The Osteen Bridge, deep bends near Mullet Lake, and the Wekiva River should all be good producers. Sunshine bass should be becoming more common as that stocking program has resumed.
Crappie anglers should take fair numbers of fish by slow trolling artificials (small jigs and beetle spins) or by drifting with live minnows in the deeper, open water areas of the river and in lakes Monroe, Jesup, Harney, Woodruff, Dexter, and Beresford early in the season, and moving closer to shore as the crappie begin to spawn.
American Shad should provide new opportunities for anglers as January approaches. Slow trolling or casting with shad darts and flies should be as productive, with shad being caught from Lemon Bluff to Mullet Lake near Osteen, in Shad Alley upstream of Lake Jesup, and near Puzzle Lakes.
Popular Species

Fish graphics by Duane Raver, Jr.
More species information is available for:
Largemouth bass, Bluegill, Redear sunfish, Striped bass, Brown Bullhead

TrophyCatch Tracker
TrophyCatch is FWC's citizen-science program that rewards anglers for documenting and releasing trophy bass 8 pounds or larger. The following TrophyCatch bass have been submitted from the St. Johns River system:
Lunker Club (8 – 9.9 pounds): 393
Trophy Club (10 - 12.9 pounds): 73