Lake Weir
Marion County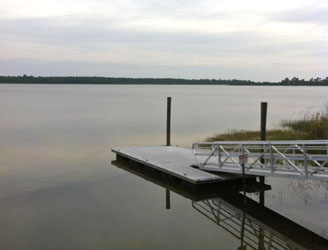 Located near Weirsdale, this 5,685-acre lake is somewhat atypical for a Florida lake, with an irregular bottom and depths exceeding 20 feet. The FWC maintains 12 brush fish attractors which are successfully utilized by many anglers. The attractors were refurbished with new brush in January 2010. These attractors can be easily spotted by the large yellow marker buoys. FWC is also experimenting with Fish-in-a-Barrel attractors (FIAB) on Lake Weir. These are PVC cubes surrounding PVC barrel halves that were designed to provide structure without snagging tackle. These attractors are marked by yellow buoys with blue caps. For GPS coordinates for the attractors, contact our fisheries biologists at 352-732-1225.
Lake Weir is an excellent destination to catch Black Crappie, and this year is no exception. The best way to catch Crappie or Specks as they are sometimes called, is to use a minnow under a slip cork. Fish the minnow at various depths until you find the depth at which fish are hitting. Look for deep holes along the bottom and fish at different depths to locate the Crappie.Lake Weir is also a good choice to catch big Panfish. The fish are typically in the maidencane or on the edge of it. Fishing with a worm on bottom near the edge of the maidencane is a good way to start. If this fails, try moving into the weeds with and fishing with grass shrimp. FWC biologists have found huge numbers of big Red-Eared Sunfish and Bluegill in the vegetation along the lake edge. Try fishing over the fish attractors for big Bass. Although the water levels have increased, boaters should still use caution when launching at the public ramps.
If anglers would like the GPS locations of some of our fish attractors,this info is available online at our Fish Attractor List.
Popular Species

Fish graphics by Duane Raver, Jr.

TrophyCatch Tracker
TrophyCatch is FWC's citizen-science program that rewards anglers for documenting and releasing trophy bass 8 pounds or larger. The following TrophyCatch bass have been submitted from Lake Weir:
Lunker Club (8 – 9.9 pounds): 59
Trophy Club (10 - 12.9 pounds): 8