Lake Kissimmee
Osceola and Polk counties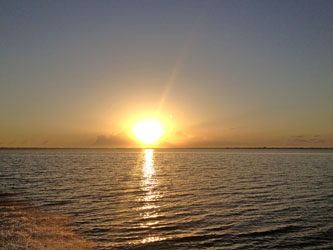 Lake Kissimmee is a 34,948-acre lake located 40 miles south of Orlando and 18 miles east of Lake Wales.
There are quite a few fish camps in the area. For further information on Lake Kissimmee or a listing of the fish camps, please contact the Kissimmee Fisheries office at (407) 846-5300.
As weather patterns stabilize and water temperatures begin to rise, largemouth bass have begun to actively forage for food. Catch rates from the creel reports show a drastic rise in largemouth bass caught from anglers this past month. Anglers should also continue to find success in the upcoming months. Fisherman looking for bass should try Brahma and Grassy islands, Lemon and Philadelphia Points, North Cove and the Pig Trail. Anglers should Try spinnerbaits, senkos, flukes and plastic worms in and around hydrilla beds. Lipless crankbaits should also work well fished just off the hydrilla edge.
Spawning activity by redear sunfish and bluegill will get into full swing. Anglers should seek out areas of the lake having a clean, sandy bottom near bulrush or lily pads, and try using crickets, or red wigglers for these panfish. Small artificial baits like jigs and beetle spins should also work well.
Popular Species

Fish graphics by Duane Raver, Jr.
More species information is available for:

TrophyCatch Tracker
TrophyCatch is FWC's citizen-science program that rewards anglers for documenting and releasing trophy bass 8 pounds or larger. The following TrophyCatch bass have been submitted from the Kissimmee Chain of Lakes:
Lunker Club (8 – 9.9 pounds): 693
Trophy Club (10 - 12.9 pounds): 150
Hall of Fame Club (13+ pounds): 2