Indian River County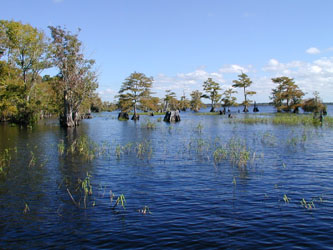 Blue Cypress is a 6,555-acre lake located in Indian River County. It is a scenic body of water with a shoreline structure composed of cypress and spatterdock. Several fish attractors have been constructed in open-water areas and are marked with buoys. Lake Blue Cypress has a good population of largemouth bass, bluegill, redear sunfish, black crappie, and catfish.For more information on daily fishing forecasts and lake conditions call Middleton's Fish Camp at: 561-778-0150.
Bass anglers can expect largemouth bass to be in a typical hot weather pattern. The lake is about six inches below the normal summer level but should come up as long as it keeps raining. Deep structure is usually the prime holding area when the water is hot. Deeper cover in Big M and Zigzag Canals is often a good bet. Many of these same fish will move into the shallow (1-3 ft) vegetated areas (lilies, grasses, and cypress trees) during low light periods from early evening to mid-morning. Bass anglers may want to focus their attention on the grass patches in the southeastern part of the lake. If the region continues to experience high rainfall anglers can look for bass to congregate where moving water is generated near the mouth of Padget Branch, Blue Cypress Creek and Big M Canal. Dark colored plastic worms, top water poppers/prop baits, crankbaits, spinner-baits, and live bait (golden shiners) are all effective depending on the habitat being targeted.
Bluegill and redear sunfish should be found along grass lines and outside cypress in 1-3 feet of water. Big M Canal and Zigzag Canal should also hold fair numbers of panfish. Fly-rod popping bugs, small jigs, beetle spins, and live bait (crickets, grass shrimp or worms) are productive techniques. Black crappie will continue to be caught by anglers trolling and drifting the deeper areas of the lake using small jigs, beetle spins, and live minnows. The deeper water along the grass/brush lines in Big M and Zigzag Canals should harbor these fish, too.
Popular Species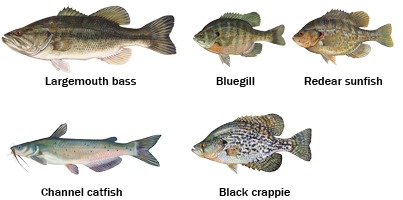 Fish graphics by Duane Raver, Jr.
More species information is available for:
Largemouth bass, Bluegill, Redear sunfish, Channel catfish, Black crappie

TrophyCatch Tracker
TrophyCatch is FWC's citizen-science program that rewards anglers for documenting and releasing trophy bass 8 pounds or larger. The following TrophyCatch bass have been submitted from Lake Blue Cypress:
Lunker Club (8 – 9.9 pounds): 10