Indian River County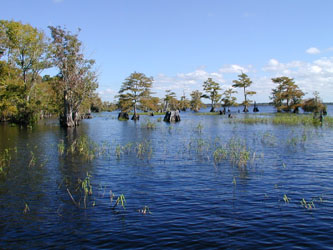 Blue Cypress is a 6,555-acre lake located in Indian River County. It is a scenic body of water with a shoreline structure composed of cypress and spatterdock. Several fish attractors have been constructed in open-water areas and are marked with buoys. Lake Blue Cypress has a good population of largemouth bass, bluegill, redear sunfish, black crappie, and catfish.For more information on daily fishing forecasts and lake conditions call Middleton's Fish Camp at: 561-778-0150.
Blue Cypress Lake is 1.5 feet below normal to start 2019. Since it is the dry season in Central Florida it will probably get lower unless some El Nino rains kick in as happened in 2010, 2015, and 2016. Bass anglers can expect to find fish along cypress trees mixed with emergent grasses, especially in the southeastern quarter of the lake. Shoreline vegetation along Big M and Zig-Zag canals is another possibility for angler success. The key is to locate areas where the bass are staging or spawning. During extended warm weather like we had in February 2018 the bass might move to the edge of the main cover and get after schools of Threadfin Shad. Flipping weedless plastics into thick vegetation and using spinner baits or crank baits to cover lots of water fast are popular techniques for finding bass. Dark colored plastic worms and flukes, shallow-running crank baits, spinner baits, and live bait (golden shiners) are favored on this scenic lake.
Black crappie success is usually good this quarter as spawning activities kick into high gear. Most anglers will catch good numbers by trolling and drifting the deeper areas of the lake using small jigs, beetle spins, and live minnows. Big M and Zig-Zag Canals should hold fish in the deeper water along the grass/brush lines. When open-water catches start to decline, anglers should try around floating vegetation and other wind-protected habitat inshore where the fish are likely to be spawning. Jig-poles and ultralight tackle outfitted with small jigs or live minnows will be the most productive in these habitats. Bluegills will be occasionally caught by those targeting crappie.
Popular Species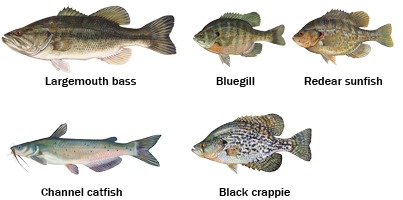 Fish graphics by Duane Raver, Jr.
More species information is available for:
Largemouth bass, Bluegill, Redear sunfish, Channel catfish, Black crappie

TrophyCatch Tracker
TrophyCatch is FWC's citizen-science program that rewards anglers for documenting and releasing trophy bass 8 pounds or larger. The following TrophyCatch bass have been submitted from Lake Blue Cypress:
Lunker Club (8 – 9.9 pounds): 10