Indian River County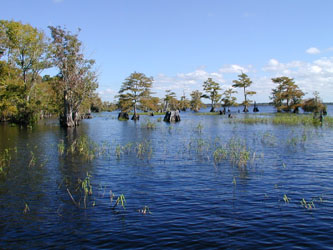 Blue Cypress is a 6,555-acre lake located in Indian River County. It is a scenic body of water with a shoreline structure composed of cypress and spatterdock. Several fish attractors have been constructed in open-water areas and are marked with buoys. Lake Blue Cypress has a good population of largemouth bass, bluegill, redear sunfish, black crappie, and catfish.For more information on daily fishing forecasts and lake conditions call Middleton's Fish Camp at: 561-778-0150.
Water levels are running about normal as summer draws to a close. Bass anglers can expect to find fish holding around cypress trees in the southern portion of the lake and among the emergent grasses found throughout the lake. Bass can also be schooling around the mouth of Big M Canal when water is being released from S-96C creating current as water drains northward out of the lake. It has been pretty dry in September and so watch the weather to see if we get any fall rain. Big M Canal, Zigzag Canal, Paget Branch, Blue Cypress Creek and the Mudfish Slough area are where bass anglers may also want to focus their effort. Early in the fall while the weather is still pretty warm you might find bass working schools of Threadfin Shad along the outer edges of cover. Dark colored plastic worms, top water poppers/prop baits, spinner baits, and live bait (golden shiners) will produce.
As water temperatures drop, black crappie success will improve for anglers trolling and drifting the open water areas of the lake using small jigs, beetle spins, and live minnows. Big M and Zigzag Canals should hold fish in the deeper water along the grass/brush lines.
Bluegill and redear sunfish catches may slow down a bit but a few will still be along grass-lines and around cypress trees in 2-3 feet of water. Big M Canal and Zigzag Canal should also be holding panfish. Small jigs, beetle spins, and live bait (crickets, grass shrimp and worms) are the favored methods.
For more information on daily fishing forecasts and lake conditions call Middleton's Fish Camp at: (561) 778-0150.
Popular Species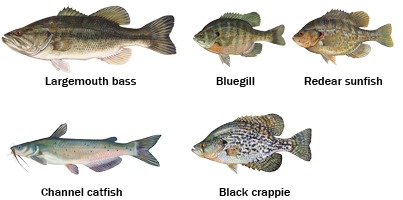 Fish graphics by Duane Raver, Jr.
More species information is available for:
Largemouth bass, Bluegill, Redear sunfish, Channel catfish, Black crappie

TrophyCatch Tracker
TrophyCatch is FWC's citizen-science program that rewards anglers for documenting and releasing trophy bass 8 pounds or larger. The following TrophyCatch bass have been submitted from Lake Blue Cypress:
Lunker Club (8 – 9.9 pounds): 10