Indian River County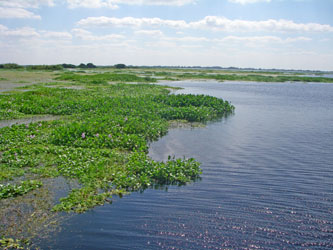 Kenansville Lake is a shallow 2,500- acre impoundment with an average water depth of 3 feet. This area was cattle pasture prior to flooding in 1993. Boaters, especially those unfamiliar with this water body, should navigate with caution as there are rows of submerged fence posts throughout the lake. Interior levees are also located at the north, center and south areas of the lake. A single lane concrete boat ramp is the only facility on the site. The town of Kenansville is the closest place to obtain gas, food and bait. Although most anglers fish this area by boat, bank fishing is available along the access canal and north end of the lake for those willing to walk or ride a bicycle to those areas. The most popular fish species include: black crappie, bluegill, largemouth bass and catfish.
Anglers are reminded that all largemouth bass caught must be released immediately under the special no-harvest regulation.
Kenansville Lake had dense topped-out hydrilla for most of the summer to the point that it was often hard to navigate and fish. But, an increase in water level with rains in late July and early August thinned things out a little and hydrilla coverage usually naturally decreases in the fall as shorter days and lower sun angles means that plant growth slows down some. It should fish about the same as it has for the last several autumns. Last fall, bass were holding throughout the north and south pools where fish were concentrated in and around the offshore hydrilla. Weedless plastics and spinner baits were working quite well. Punching heavy weedless jigs through hydrilla mats is also an effective technique used by some anglers. The old internal ditches and berms from the farm that were there before the reservoir was flooded can provide some strips of open water through the hydrilla to provide edges to target besides those around the perimeter canals. There is always a risk that the canal from the ramp out to the lake could be blocked with invasive floating vegetation, especially after a period of hard east wind. It can be good to have a backup fishing location in the area just in case.
Black crappie and bluegill fishing will continue to be tough based on the low effort we saw last year from those targeting either species. Anglers will have to focus effort in the deeper portions of the lake's perimeter canal or try along the edge of open pockets of hydrilla and floating plants.
Popular Species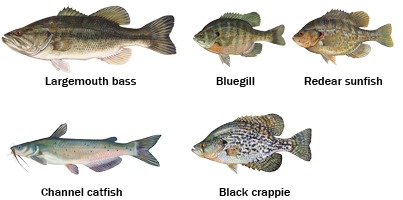 Fish graphics by Duane Raver, Jr.
More species information is available for:
Largemouth bass, Bluegill, Redear sunfish, Channel catfish, Black crappie

TrophyCatch Tracker
TrophyCatch is FWC's citizen-science program that rewards anglers for documenting and releasing trophy bass 8 pounds or larger. The following TrophyCatch bass have been submitted from Kenansville Lake:
Lunker Club (8 – 9.9 pounds): 135
Trophy Club (10 - 12.9 pounds): 20
Hall of Fame Club (13+ pounds): 1