Indian River County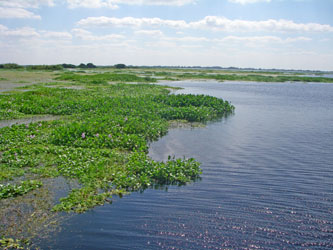 Kenansville Lake is a shallow 2,500- acre impoundment with an average water depth of 3 feet. This area was cattle pasture prior to flooding in 1993. Boaters, especially those unfamiliar with this water body, should navigate with caution as there are rows of submerged fence posts throughout the lake. Interior levees are also located at the north, center and south areas of the lake. A single lane concrete boat ramp is the only facility on the site. The town of Kenansville is the closest place to obtain gas, food and bait. Although most anglers fish this area by boat, bank fishing is available along the access canal and north end of the lake for those willing to walk or ride a bicycle to those areas. The most popular fish species include: black crappie, bluegill, largemouth bass and catfish.
Anglers are reminded that all largemouth bass caught must be released immediately under the special no-harvest regulation.
Kenansville Lake continues to have abundant hydrilla in the south half. The north half still has a lot of open water that was created when Hurricane Irma dislodged a lot of the hydrilla there. It has grown back from the edges which has created some really nice looking edges to fish. The spring 2018 electrofishing survey found that the bass population continues to be robust with good numbers of large fish in good condition as well as lots of young fish. For bass angler who like fishing in, around and through hydrilla this is the time to year to fish this lake. A good starting point will be the western half of the north pool, where anglers will have to move through openings in the hydrilla to find the best combination of water depth and vegetation holding fish. Swim baits, spinner baits and weedless spoons worked well last year, allowing anglers to cover a lot of ground to locate concentrations of fish. When fish are located they slow their technique - fishing the edges of the hydrilla with plastic worms or punch heavy jigs through the hydrilla mats. The perimeter and center canals will also be holding bass, where anglers can flip soft plastic into the bulrushes, cattails and emergent grass lines. Anglers are reminded that all largemouth bass caught must be released immediately under the special no-harvest regulation.
We are expecting another slow winter for black crappie with few reports coming from anglers. The hydrilla infestation has been a boon to bass fishing but not so much for specks. January and February are generally the best time of the year to target this fish in Kenansville Lake. Unless patterns change, most specks will be caught from the submerged drainage canals running along the northern, eastern, and southern shorelines of the reservoir and the center canal that bisects the northern and southern pools. Making things more difficult, angler may have to search for crappie concentration around the offshore hydrilla, which is widespread. Traditional jigs (twister tail and tube style) and techniques will work for crappie, but many anglers prefer to use a jig pole in order to drop their jig or minnow back inside the vegetation, especially the bulrushes. This time of year, many anglers may have better success with live minnows. Many like to slow trolled at different depths along the canals or fished under a small float.
Popular Species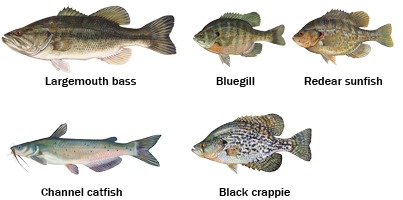 Fish graphics by Duane Raver, Jr.
More species information is available for:
Largemouth bass, Bluegill, Redear sunfish, Channel catfish, Black crappie

TrophyCatch Tracker
TrophyCatch is FWC's citizen-science program that rewards anglers for documenting and releasing trophy bass 8 pounds or larger. The following TrophyCatch bass have been submitted from Kenansville Lake:
Lunker Club (8 – 9.9 pounds): 126
Trophy Club (10 - 12.9 pounds): 17
Hall of Fame Club (13+ pounds): 1