Indian River County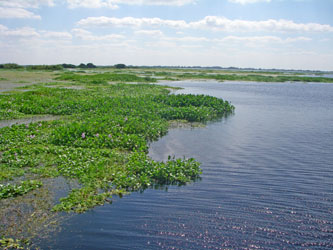 Kenansville Lake is a shallow 2,500- acre impoundment with an average water depth of 3 feet. This area was cattle pasture prior to flooding in 1993. Boaters, especially those unfamiliar with this water body, should navigate with caution as there are rows of submerged fence posts throughout the lake. Interior levees are also located at the north, center and south areas of the lake. A single lane concrete boat ramp is the only facility on the site. The town of Kenansville is the closest place to obtain gas, food and bait. Although most anglers fish this area by boat, bank fishing is available along the access canal and north end of the lake for those willing to walk or ride a bicycle to those areas. The most popular fish species include: black crappie, bluegill, largemouth bass and catfish.
Anglers are reminded that all largemouth bass caught must be released immediately under the special no-harvest regulation.
Hydrilla is pretty thick in most areas. Rain in early June brought the water up so most of it was just under the surface but it is topping out again. Anglers are still going to want to target vegetation edges and maybe punch into the plants to find the big ones. There can be some pretty big mats of water hyacinth moving around out there. They stay put as long as the water is low and they are hung up on hydrilla but float free and move around whenever a heavy rain brings up the water and a good wind shoves them along. These can plug up the canal from the boat ramp to the lake depending on dominant wind. Have a plan B lake just in case the wind blows in a plug of plants that blocks passage. Lakes Marian, Jackson, Blue Cypress or other nearby lake can be good options.
 The hot shallow water can be a challenge to fish for bass in the summer but bream should be readily available. Anglers targeting bluegill and redear sunfish should be able to locate fair numbers of these panfish adjacent to levees and along submerged canal berms throughout the lake. Anglers may have to spend more time trying to pattern fish with all the hydrilla present throughout the lake. The usual live baits of crickets, red worms, and grass shrimp are best for bream. Black crappie anglers may want to begin by drifting live minnows slowly under a small float in the deeper waters along the north and east side of the lake but anglers may have to resort to targeting them in holes and along the edges of hydrilla.
Popular Species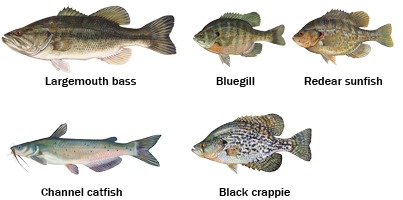 Fish graphics by Duane Raver, Jr.
More species information is available for:
Largemouth bass, Bluegill, Redear sunfish, Channel catfish, Black crappie

TrophyCatch Tracker
TrophyCatch is FWC's citizen-science program that rewards anglers for documenting and releasing trophy bass 8 pounds or larger. The following TrophyCatch bass have been submitted from Kenansville Lake:
Lunker Club (8 – 9.9 pounds): 153
Trophy Club (10 - 12.9 pounds): 22
Hall of Fame Club (13+ pounds): 1