Indian River County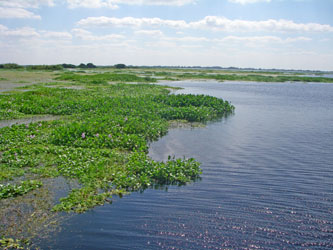 Kenansville Lake is a shallow 2,500- acre impoundment with an average water depth of 3 feet. This area was cattle pasture prior to flooding in 1993. Boaters, especially those unfamiliar with this water body, should navigate with caution as there are rows of submerged fence posts throughout the lake. Interior levees are also located at the north, center and south areas of the lake. A single lane concrete boat ramp is the only facility on the site. The town of Kenansville is the closest place to obtain gas, food and bait. Although most anglers fish this area by boat, bank fishing is available along the access canal and north end of the lake for those willing to walk or ride a bicycle to those areas. The most popular fish species include: black crappie, bluegill, largemouth bass and catfish.
Anglers are reminded that all largemouth bass caught must be released immediately under the special no-harvest regulation.
Most of the hydrilla that Hurricane Irma dislodged in 2017 has regrown. Plant cover is very thick in a lot of areas, especially in the south half. The north half has also been experiencing an algae bloom which reduces visibility a lot in affected areas. The south half and north half were two different worlds in March with clear water south and dirty water north. Hydrilla levels and floating plants usually increase during this quarter as the water temperature rises but anglers who don't mind navigating and fishing in heavy cover should still be able to catch fish. Targeting well defined edges of heavy vegetation adjacent to larger open pools with weedless plastic worms, craws and jig should produce a bite. Remember that Kenansville Lake is catch-and-release only for largemouth bass.
Bluegill and redear sunfish action on this lake should be coming into full swing, but anglers are going to have to find out where these panfish are concentrating which becomes more challenging with all the hydrilla. Bluegill beds holding some impressive fish were observed along many of the submerged berms during the very warm weather in February. Although many panfish anglers use artificial lures, live crickets are known for producing some of the better catches. Biologists found pretty good numbers of crappie under the edges of floating mats of vegetation while sampling for bass in early March. Small jigs and live minnows fished with a jigging pole or ultralight spinning gear will both work.
Popular Species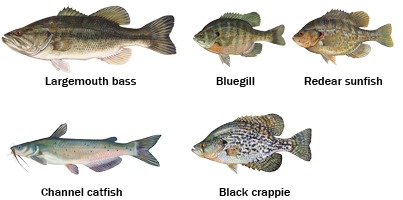 Fish graphics by Duane Raver, Jr.
More species information is available for:
Largemouth bass, Bluegill, Redear sunfish, Channel catfish, Black crappie

TrophyCatch Tracker
TrophyCatch is FWC's citizen-science program that rewards anglers for documenting and releasing trophy bass 8 pounds or larger. The following TrophyCatch bass have been submitted from Kenansville Lake:
Lunker Club (8 – 9.9 pounds): 129
Trophy Club (10 - 12.9 pounds): 18
Hall of Fame Club (13+ pounds): 1