Indian River County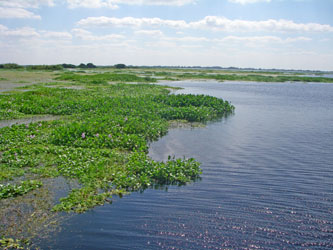 Kenansville Lake is a shallow 2,500- acre impoundment with an average water depth of 3 feet. This area was cattle pasture prior to flooding in 1993. Boaters, especially those unfamiliar with this water body, should navigate with caution as there are rows of submerged fence posts throughout the lake. Interior levees are also located at the north, center and south areas of the lake. A single lane concrete boat ramp is the only facility on the site. The town of Kenansville is the closest place to obtain gas, food and bait. Although most anglers fish this area by boat, bank fishing is available along the access canal and north end of the lake for those willing to walk or ride a bicycle to those areas. The most popular fish species include: black crappie, bluegill, largemouth bass and catfish.
Anglers are reminded that all largemouth bass caught must be released immediately under the special no-harvest regulation.
Hydrilla has dominated most of this impoundment for several years now. Hurricane Irma opened up some of the hydrilla in the north half of Kenansville in late 2017 and the nutrient rich run off then triggered an algae bloom in the areas where hydrilla was absent. But, the hydrilla has grown in quite thick since then. Fishing centers around punching the hydrilla or finding open pockets and edges. Sometimes in the winter when growth slows the coots are able to thin the hydrilla by grazing and areas where mats of floating plants shaded the hydrilla in the prior season can create open pockets with edges to target. The bass population was good in 2019 with excellent numbers of young fish as we expect with lots of nursery cover. There were some trophy fish showing up in routing sampling with one 15-minute sample that yielded over 40 quality fish and some fish > 10 lbs were registered in the trophy catch program. All indications are that this year should fish as good or better than 2019.
For those targeting bass, try flipping weedless soft plastic baits in the deeper emergent vegetation (bulrush, cattail and grass) found along the deep canals. Plastic worms (June-bug, tequila sunrise) and other weedless baits fished in and over top of these areas should be considered standard tools of the trade. Soaking shiners along the canal edges and other edge is a great way to get a trophy. Any multi-day stretch of days above 80 degrees can trigger a spring time bite which will mean fun weedless frog and surface buzz bait fishing. Anglers are reminded that all largemouth bass caught must be released immediately under the special no-harvest regulation.
Popular Species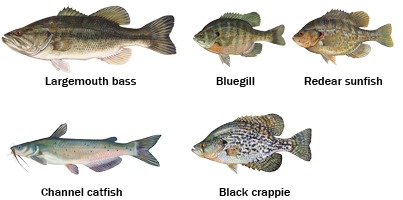 Fish graphics by Duane Raver, Jr.
More species information is available for:
Largemouth bass, Bluegill, Redear sunfish, Channel catfish, Black crappie

TrophyCatch Tracker
TrophyCatch is FWC's citizen-science program that rewards anglers for documenting and releasing trophy bass 8 pounds or larger. The following TrophyCatch bass have been submitted from Kenansville Lake:
Lunker Club (8 – 9.9 pounds): 138
Trophy Club (10 - 12.9 pounds): 20
Hall of Fame Club (13+ pounds): 1