Ansin Garcia - Miami Lakes
Ansin Garcia - Miami Lakes
Indian River County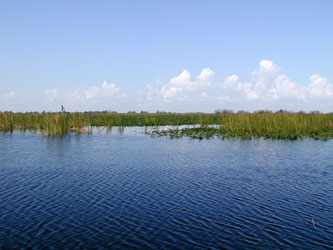 The Lake Garcia Reservoir is a 3,149-acre section of the Blue Cypress Water Management Area (BCWMA) along the east coast of central Florida in north Indian River County. Water depths range from 1.5 to 6 feet on this impoundment, fluctuating seasonally. Boaters unfamiliar with the BCWMA are advised to operate their crafts cautiously, due to the number of navigational hazards found throughout the area. Facilities include a double lane concrete boat ramp, air boat launch site, paved parking lot, picnic pavilion and restroom. This impoundment is noted for good numbers of smaller largemouth bass, but does produce its share of trophy bass each year. Largemouth, bluegill and black crappie are the sportfish most often targeted by anglers. For more information on daily fishing forecasts and lake conditions for Garcia Lake, call Stick Marsh Bait and Tackle Shop at (772) 571-9855.
Garcia is starting the quarter a tad low but this summer is progressing as usual. August 2018 through May 2019 was pretty dry in this part of the state but the rainy season seems to be coming along as of June. The coverage of submersed plants is the best it has been in recent memory and angler catches were good in the first and second quarters of 2019. Anglers can begin by fishing along the submerged drainages ditches/canals, the deeper northwestern section of the reservoir and the area around the submerged borrow pit. This time of the year anglers should also look for fish feeding and schooling around moving water coming in from the south canal and near the outflow (C-65) as fish will congregate in these areas. Typical techniques will work, including crank-baits, twitch baits, plastic worms, and top-water lures. Local anglers say that the early morning bite on top-waters can be excellent this time of year.
Black crappie anglers should focus their efforts on deep jigging or drifting live minnows in the deeper water within the borrow pit and the outflow canal (C-65) at the northwest corner of the lake. Bluegill and redear sunfish should be found along the hard bottom areas around submerged levees, along the perimeter of the borrow pit, the vegetated edges of canals, and the submerged vegetation in open water. Crickets, worms, or grass shrimp work best when targeting these two species, but don't neglect your fly rod if you have one. This shallow, vegetated lake has strong hatches of non-biting midges and other insects.
Popular Species

Fish graphics by Duane Raver, Jr.
More species information is available for:

TrophyCatch Tracker
TrophyCatch is FWC's citizen-science program that rewards anglers for documenting and releasing trophy bass 8 pounds or larger. The following TrophyCatch bass have been submitted from Ansin Garcia - Miami Lakes:
Lunker Club (8 – 9.9 pounds): 40
Trophy Club (10 - 12.9 pounds): 4