Ansin Garcia - Miami Lakes
Ansin Garcia - Miami Lakes
Indian River County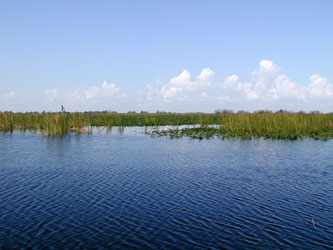 The Lake Garcia Reservoir is a 3,149-acre section of the Blue Cypress Water Management Area (BCWMA) along the east coast of central Florida in north Indian River County. Water depths range from 1.5 to 6 feet on this impoundment, fluctuating seasonally. Boaters unfamiliar with the BCWMA are advised to operate their crafts cautiously, due to the number of navigational hazards found throughout the area. Facilities include a double lane concrete boat ramp, air boat launch site, paved parking lot, picnic pavilion and restroom. This impoundment is noted for good numbers of smaller largemouth bass, but does produce its share of trophy bass each year. Largemouth, bluegill and black crappie are the sportfish most often targeted by anglers. For more information on daily fishing forecasts and lake conditions for Garcia Lake, call Stick Marsh Bait and Tackle Shop at (772) 571-9855.
Water levels will continue to drop throughout the quarter unless unexpected rainfall comes during this year's dry season. Boaters will need to use caution navigating to the deeper sites around the lake. The water management district is doing its best to keep the floating plants that block the canals out from the boat ramp controlled but there have been some recent blockages. The bass population looked good in the 2019 electrofishing samples and creel survey. Submerged plants, hydrilla and eel grass, have been flourishing in the western half of the impoundment. It's located within a half-hour drive of the neighboring Stick Marsh/Farm 13 and also offers more shelter from blowing northerly winds. There are a lot of commercial airboat tours, especially around holidays and spring break, so there is some noise during tour hours but the captains are polite and you can still have a quiet fishing trip early in the morning before the tourse get running.
The open northwestern section of the reservoir and the area around the submerged borrow pit are good places to start fishing for bass. The grass flats, interior ditches, and berms in the western half are the top area to go after bass. The north central region is dominated by pads and cattails can also be worth a look, especially the transition area where pads and submerged plants mix. The outlet canal (C-65) which run for five miles – connecting to the control structure into Farm13, can also be productive. Typical techniques will work including live shiners, spinner baits, soft plastic jerk baits and plastic worms, with diving minnow imitations and top-water baits becoming more productive as the water warms.
Black crappie anglers should focus their efforts in deeper waters within the borrow pit, C-65 - outflow canal at the northwest corner, and around floating mats of vegetation along the numerous old submerged canals that border and criss-cross the reservoir's bottom. Vertically jigging or a live minnow under a small float will work.
Popular Species

Fish graphics by Duane Raver, Jr.
More species information is available for:

TrophyCatch Tracker
TrophyCatch is FWC's citizen-science program that rewards anglers for documenting and releasing trophy bass 8 pounds or larger. The following TrophyCatch bass have been submitted from Ansin Garcia - Miami Lakes:
Lunker Club (8 – 9.9 pounds): 40
Trophy Club (10 - 12.9 pounds): 4