Ansin Garcia - Miami Lakes
Ansin Garcia - Miami Lakes
Indian River County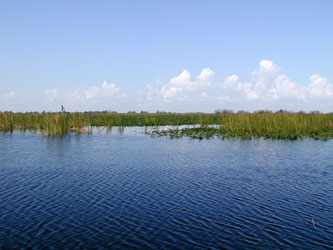 The Lake Garcia Reservoir is a 3,149-acre section of the Blue Cypress Water Management Area (BCWMA) along the east coast of central Florida in north Indian River County. Water depths range from 1.5 to 6 feet on this impoundment, fluctuating seasonally. Boaters unfamiliar with the BCWMA are advised to operate their crafts cautiously, due to the number of navigational hazards found throughout the area. Facilities include a double lane concrete boat ramp, air boat launch site, paved parking lot, picnic pavilion and restroom. This impoundment is noted for good numbers of smaller largemouth bass, but does produce its share of trophy bass each year. Largemouth, bluegill and black crappie are the sportfish most often targeted by anglers. For more information on daily fishing forecasts and lake conditions for Garcia Lake, call Stick Marsh Bait and Tackle Shop at (772) 571-9855.
Lake Garcia has been fishing great for the last year and there is an abundance of submersed vegetation and clean water on the west side of the reservoir. Target domes of hydrilla along deeper edges for bass. Suspending jerkbaits fished around these areas will produce. Senkos rigged wacky style will also work well for bass. As bass start to spawn, the internal berms are a great place to target for bedding bass. Creature baits pitched on beds can draw bites from large females.
Garcia is a great place to go in windy conditions. There are many windbreaks and areas where wind current is funneling through a break in the berm, fishing can be hot. Black Crappie will be starting to move up shallow to spawn. This is when they are most vulnerable to angling and fishing tube jigs or minnows along the cattails should get some in the boat.
Be mindful of the depth in the canals and the floating vegetation that can sometimes block access. If it looks too shallow or blocked, its always best to pull out and try a different lake.
Popular Species

Fish graphics by Duane Raver, Jr.
More species information is available for:

TrophyCatch Tracker
TrophyCatch is FWC's citizen-science program that rewards anglers for documenting and releasing trophy bass 8 pounds or larger. The following TrophyCatch bass have been submitted from Ansin Garcia - Miami Lakes:
Lunker Club (8 – 9.9 pounds): 41
Trophy Club (10 - 12.9 pounds): 4