Citrus County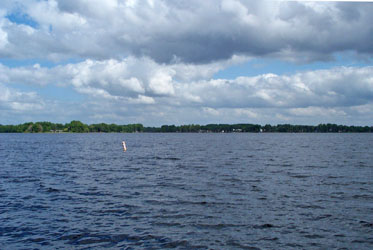 Lake Tsala Apopka is 19,111 acres of shallow, heavily vegetated marshes intermingled with open water pools. Water control structures separate the lake into three main pools named after nearby towns: Floral City, Inverness and Hernando.
Public boat ramps are available for each pool:
Hernando Pool: 1/4 mile east of the intersection of U.S. Hwy 41 and SR 200
Inverness Pool: Highway 44 Boat Ramp, Eden Park, and North Apopka Boat Ramp
Floral City Pool: Duval Island Road
Local Contacts:  River Land Bait and Tackle (352-465-2755) for more up-to-date information.
Due to the size of this system, interested anglers should seek advice from local tackle shops or internet message boards to help focus their efforts. During the past quarter (July-September), the Hernando Pool had more reported trophy bass caught than the other two pools, while tournament data shows productive bass fishing in the Hernando and Inverness Pools. While the weather is still warm, bass anglers should fish in the morning and evening hours around areas of vegetation. Live shiners or long, plastic worms are good choices for bait. Bream should be biting on any small baits like crickets, grass shrimp or worms. Find submersed structure to fish around or clearings in dense vegetation. As the quarter progresses and the weather cools, expect the black crappie fishing to improve. Anglers should fish minnows in deeper water and near the edges of lily pads until they find schools of crappie. Catfish should continue to bite any stinky baits like chicken or liver. Find areas with submersed structures or fish around bridge pilings and rip-rap.
Popular Species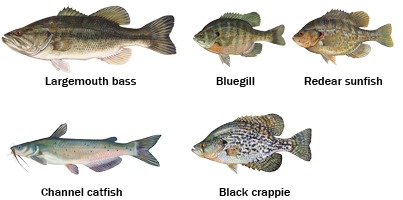 Fish graphics by Duane Raver, Jr.
More species information is available for:
Largemouth bass, Bluegill, Redear sunfish, Channel catfish, Black crappie

TrophyCatch Tracker
TrophyCatch is FWC's citizen-science program that rewards anglers for documenting and releasing trophy bass 8 pounds or larger. The following TrophyCatch bass have been submitted from the Tsala Apopka Chain:
Lunker Club (8 – 9.9 pounds): 129
Trophy Club (10 - 12.9 pounds): 61
Hall of Fame Club (13+ pounds): 2