Citrus County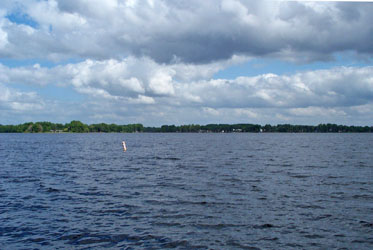 Lake Tsala Apopka is 19,111 acres of shallow, heavily vegetated marshes intermingled with open water pools. Water control structures separate the lake into three main pools named after nearby towns: Floral City, Inverness and Hernando.
Public boat ramps are available 1/4 mile east of the intersection of U.S. Highway 41 and S.R. 200 (Hernando Pool); 1-1/4 mile east of City of Inverness on S.R. 470 (Inverness Pool); and on Duval Island Road off C.R. 48, one mile east of U.S. Highway 41 (Floral City Pool).
Local Contacts:  River Land Bait and Tackle (352-465-2755) for more up-to-date information.
Watch the weather and hit the lake as daily temperatures being to rise. As water temperatures increase, bass will begin moving to shallow water to spawn. Flip soft plastic lures through openings in vegetation, or fish live Golden Shiners along the edges of vegetation to entice hungry Largemouth Bass. During cold spells, fish deep diving crankbaits through deep holes. Black Crappie should begin schooling and seeking spawning habitat in shallow waters. Fish jigs or live minnows through and near vegetation. On cold, cloudy days look for bream in deeper water near vegetation. Drop beetle spins through openings in vegetation and let them sink. As water temperatures rise look for bream to move into shallower water. Live crickets and grass shrimp make excellent Bluegill bait. Fish nightcrawlers on the bottom or around hard structures to attract Redear Sunfish.
Popular Species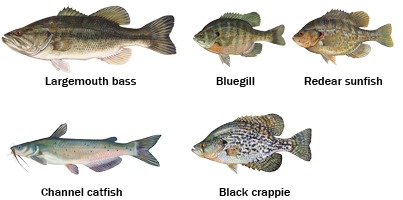 Fish graphics by Duane Raver, Jr.
More species information is available for:
Largemouth bass, Bluegill, Redear sunfish, Channel catfish, Black crappie

TrophyCatch Tracker
TrophyCatch is FWC's citizen-science program that rewards anglers for documenting and releasing trophy bass 8 pounds or larger. The following TrophyCatch bass have been submitted from the Tsala Apopka Chain:
Lunker Club (8 – 9.9 pounds): 95
Trophy Club (10 - 12.9 pounds): 39