Suwannee County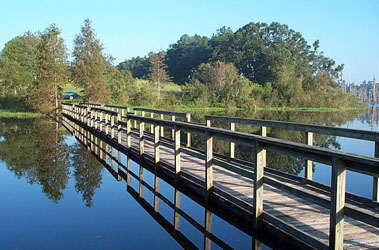 This 63-acre man-made, state-owned impoundment is filled with cypress trees and largemouth bass. It is a Fish Management Area and a license is required. Two fishing piers, one fully handicapped accessible, and several earthen fishing fingers provide boatless angling opportunities. The lake is shallow around the edge with good vegetative cover and several old sink-holes out in the trees providing deep cover. Perennial tactics, depending on the season, include pitching jigs and spinners up into "no-man's land"--the brush around the edge, shiner fishing in winter and very early spring, cranking shiner imitators between the trees, and fishing topwater lures and dark plastic worms anywhere. Good fishing for bluegill and redear sunfish occurs during spring and summer.
Note:  A special harvest regulations is in place on Suwannee Lake. Minimum size limit of 10 inches for crappie allows more fish to grow to desirable sizes.
Local contacts: Greens Marine, Lake City 386-755-5390; Rooster's Outfitters 386-234-0851
Largemouth Bass are abundant and have shown exceptional growth since the lake restoration project was completed. The bass bite is good, with buzz baits and imitation frogs being the most productive baits. If these don't work, try golden shiners. Panfish are abundant and growing, hitting worms more frequently than crickets. Catfish should be targeted using cut or stink baits fished on the bottom and around structures.
Popular Species

Fish graphics by Duane Raver, Jr.
More species information is available for:
Largemouth bass, Bluegill, Black crappie, Brown bulhead, Channel catfish

TrophyCatch Tracker
TrophyCatch is FWC's citizen-science program that rewards anglers for documenting and releasing trophy bass 8 pounds or larger.
Be the first to submit a trophy bass from Suwannee Lake FMA!