Alachua County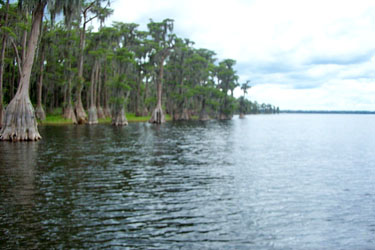 This 5850-acre lake has a "little" northern area and a "big" southern arm connected by "the pass" where shad school and fishing is usually good for schooling largemouth and stocked sunshine bass. Numerous homes surround the lake, most with docks and ski boats; fishing is always best early and late or at night and on weekdays. In spite of development, the fish habitat is outstanding with many areas of cypress and healthy maidencane grass beds.
Local contact: Chappini's Bait & Tackle 352-475-9496; Bald Eagle Bait and Tackle 352-473-6060.
Panfish can be found around docks and cypress trees scattered around the lake and should be targeted using crickets, earthworms, and grass shrimp. Small artificial jigs and lures will also take aggressive panfish. If you are targeting black crappie, focus your efforts offshore, either in deep open water or around any submerged structure, including marked fish attractors. Troll or drift crappie jigs or minnows and try to cover as much water as possible. Pay attention to water depth, lure depth, lure color, and boat speed if you start to catch fish. Use this information to try to pattern these fish on a given day. Experiment with different combinations of speed, lure color, and lure depth to find what the fish want. Numerous trophy bass were caught during the spring months, most from Little Santa Fe Lake. Anglers can find scattered largemouth bass in near-shore maidencane beds, under docks, and around cypress trees. Soft plastics either flipped, pitched, or dragged near structure should draw strikes. Precipitation is predicted to be above normal this summer, which may increase water levels and access to flooded structure along the shoreline. Bass can be targeted away from the shoreline as well; try along vegetation or offshore using minnow-imitating plugs, spinnerbaits, or even jigging spoons in deeper water. Summertime is also a great time to throw topwater frog imitations, especially in early morning or around dusk in and around vegetation. Anglers looking to beat the summer heat should focus their efforts on mornings, evenings, or even during the night. Summertime anglers looking to avoid the pleasure boating crowds should focus their efforts during weekdays, early mornings, late afternoons, or even at night.
Popular Species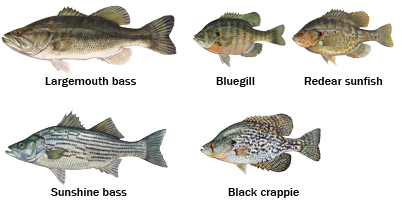 Fish graphics by Duane Raver, Jr.
More species information is available for:
Largemouth bass, Bluegill, Redear sunfish, Sunshine bass, Black crappie

TrophyCatch Tracker
TrophyCatch is FWC's citizen-science program that rewards anglers for documenting and releasing trophy bass 8 pounds or larger. The following TrophyCatch bass have been submitted from Lake Santa Fe:
Lunker Club (8 – 9.9 pounds): 26
Trophy Club (10 - 12.9 pounds): 4