Alachua County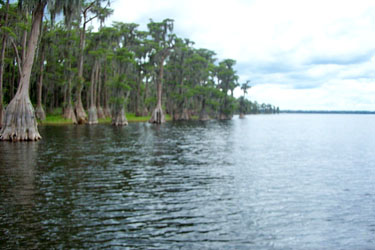 This 5850-acre lake has a "little" northern area and a "big" southern arm connected by "the pass" where shad school and fishing is usually good for schooling largemouth and stocked sunshine bass. Numerous homes surround the lake, most with docks and ski boats; fishing is always best early and late or at night and on weekdays. In spite of development, the fish habitat is outstanding with many areas of cypress and healthy maidencane grass beds.
Local contact: Chappini's Bait & Tackle 352-475-9496; Bald Eagle Bait and Tackle 352-473-6060.
Water levels are the lowest they've been all year. Bass fishing is expected to be good since refuge among the trees is more limited. The maidencane edge will hold bluegill and redear sunfish along with prowling largemouth bass and chain pickerel. Use suspended crankbaits with a slender profile to target largemouth bass. Try traditional methods for bass and panfish within and around existing pads. As colder temperatures reduce the abundance of this cover, fish will hold closer to shoreline cover. As March rolls around, redear sunfish (shellcrackers) will begin bedding followed closely by bluegill. Black crappie ("specks") are biting, mainly at depths of 16-18 feet. Look for depths of 20+ feet and reel or troll very slowly. Experiment with different depths to see where the fish are. Use a gold hook with a minnow and weight and another rod with either a jig or beetle spin, and a minnow. The worse the weather is, the better the fishing. A couple good areas to target are the little lake and the north end of the big lake.
Popular Species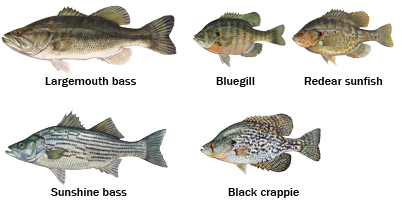 Fish graphics by Duane Raver, Jr.
More species information is available for:
Largemouth bass, Bluegill, Redear sunfish, Sunshine bass, Black crappie

TrophyCatch Tracker
TrophyCatch is FWC's citizen-science program that rewards anglers for documenting and releasing trophy bass 8 pounds or larger. The following TrophyCatch bass have been submitted from Lake Santa Fe:
Lunker Club (8 – 9.9 pounds): 20
Trophy Club (10 - 12.9 pounds): 3