Alachua County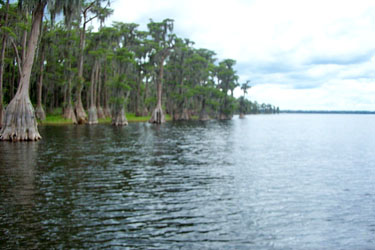 This 5850-acre lake has a "little" northern area and a "big" southern arm connected by "the pass" where shad school and fishing is usually good for schooling largemouth and stocked sunshine bass. Numerous homes surround the lake, most with docks and ski boats; fishing is always best early and late or at night and on weekdays. In spite of development, the fish habitat is outstanding with many areas of cypress and healthy maidencane grass beds.
Local contact: Chappini's Bait & Tackle 352-475-9496; Bald Eagle Bait and Tackle 352-473-6060.
Bluegill and redear can be found around docks and cypress trees scattered around the lake. Target those fish using crickets, earthworms, and grass shrimp. There have been good reports coming in from crappie anglers on Santa Fe recently. If you are looking for crappie offshore, troll or drift crappie jigs or minnows and try to cover as much water as possible. Pay attention to water depth, lure depth, lure color and boat speed if you start to catch fish. Use this information to try to pattern these fish on a given day. Experiment with different combinations of speed, lure color, and lure depth to find what the fish want. Santa Fe crappie anglers should try probing the deepest areas of the lake as well (20-30 foot depths). Anglers have traditionally done while fishing right near the bottom with jigs or minnows after they find the depth contours preferred by the fish on that particular day. Crappie anglers should not overlook FWC brush fish attractors in their search for crappie as well. As crappie make their way inshore to spawn in the spring, target floating pads and other nearshore structure. Largemouth bass should be found in near-shore maidencane beds, under docks, and around cypress trees as they prepare to spawn. Soft plastics either flipped, pitched, or dragged near structure should draw strikes. Don't be afraid to look away from the shoreline when targeting bass also. As the water cools, anglers should try slow-trolling live golden shiners parallel to the outer grass edges. As with Lake Sampson, keep an eye open for roving schools of feeding sunshine bass offshore. Look for birds diving or surface commotion to find these feeding fish. Approach these feeding schools with stealth, and you should be able to catch multiple fish before the action stops. Effective lures include anything shiny, white, or minnow-shaped. Be prepared for either schooling largemouth bass or sunshine bass, as they can both display the same feeding behavior offshore. Look for the cooling water temperatures in the coming months to improve bass and crappie fishing as these fish move in closer to shore.
As we approach the cooler months and cooler water temperatures that follow, largemouth bass fishing should improve. Larger spawning fish should become more vulnerable to anglers, resulting in the possibility of some truly impressive catches. Register online with FWC's TrophyCatch program and enter your trophy bass for a chance to win prizes. Entering fish is as simple as submitting a photo of the fish on a scale to the website above. The photo must show the entire fish and clearly show the weight on the scale.
Popular Species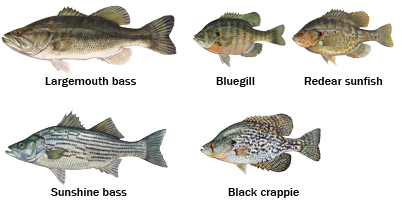 Fish graphics by Duane Raver, Jr.
More species information is available for:
Largemouth bass, Bluegill, Redear sunfish, Sunshine bass, Black crappie

TrophyCatch Tracker
TrophyCatch is FWC's citizen-science program that rewards anglers for documenting and releasing trophy bass 8 pounds or larger. The following TrophyCatch bass have been submitted from Lake Santa Fe:
Lunker Club (8 – 9.9 pounds): 19
Trophy Club (10 - 12.9 pounds): 3