Lake Sampson and Lake Rowell
Lake Sampson and Lake Rowell
Bradford County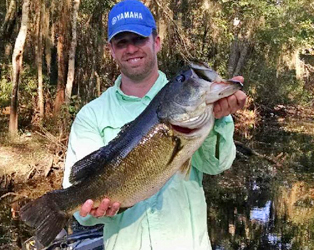 FWC recently completed a fish community survey on Lake Sampson. Good numbers of bluegill and redear sunfish were found in the south and southwest side of the lake. Live bait, such as earthworms and crickets, is a good choice for bream and can be fished around vegetation in the shallower portions of the lakes and around the masses of vegetation away from shore. Forage fish are abundant in the northern portions of the lake which may attract largemouth bass and pickerel. Also, don't forget to fish any structure you might find in deeper areas late in the year. Bass anglers still tend to head into Lake Rowell where the numbers of larger fish may be better, but keep looking for new areas in Lake Sampson as well. Texas-rigged soft plastics and crankbaits are some of the most popular choices. At the time of this writing, water levels in these lakes were still high enough to allow boat anglers to access Lake Sampson. Additionally, water levels were high enough to prevent some anglers from passing under the railroad trestle to access Lake Rowell; however, most low or small boats can still pass.
Local contact: The Slab 904-964-9374
Access to the lakes is difficult, especially to Rowell. Increased sedimentation causing low water levels, snags, and invasive plants are causing this difficulty. The water control structure is remaining open because of flooding around the lake. Try to find areas of deeper water and move baits slower in cold water. Worms and crickets are good choices for Bluegill, Redear, and Black Crappie. Texas-rigged soft plastics and crankbaits are popular choices for bass. While fishing for bass you may even catch a chain pickerel as a bonus.
Popular Species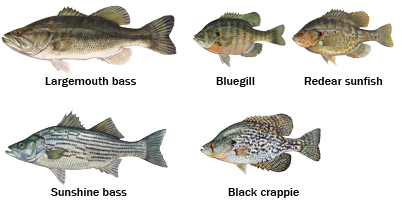 Fish graphics by Duane Raver, Jr.
More species information is available for:
Largemouth bass, Bluegill, Redear sunfish, Striped bass, Black crappie

TrophyCatch Tracker
TrophyCatch is FWC's citizen-science program that rewards anglers for documenting and releasing trophy bass 8 pounds or larger. The following TrophyCatch bass have been submitted from Lake Sampson and Lake Rowell:
Lunker Club (8 – 9.9 pounds): 12
Trophy Club (10 - 12.9 pounds): 3