Lake Sampson and Lake Rowell
Lake Sampson and Lake Rowell
Bradford County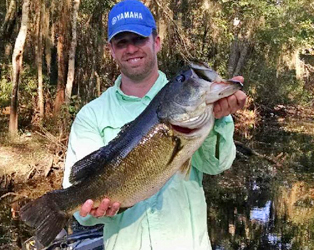 FWC recently completed a fish community survey on Lake Sampson. Good numbers of bluegill and redear sunfish were found in the south and southwest side of the lake. Live bait, such as earthworms and crickets, is a good choice for bream and can be fished around vegetation in the shallower portions of the lakes and around the masses of vegetation away from shore. Forage fish are abundant in the northern portions of the lake which may attract largemouth bass and pickerel. Also, don't forget to fish any structure you might find in deeper areas late in the year. Bass anglers still tend to head into Lake Rowell where the numbers of larger fish may be better, but keep looking for new areas in Lake Sampson as well. Texas-rigged soft plastics and crankbaits are some of the most popular choices. At the time of this writing, water levels in these lakes were still high enough to allow boat anglers to access Lake Sampson. Additionally, water levels were high enough to prevent some anglers from passing under the railroad trestle to access Lake Rowell; however, most low or small boats can still pass.
Local contact: The Slab 904-964-9374
Bluegill and redear sunfish are abundant in this system. Live bait, such as earthworms, crickets, and grass shrimp are good choices for bream. While the majority of the largemouth bass should have spawned by now, anglers may still find some nesting during the month of April and trophy bass have been caught this year. Anglers should throw soft plastic baits around nearshore vegetation. When targeting black crappie, focus your efforts offshore using minnows and jigs. Trolling and drifting are two effective methods for locating these fish. The key is to cover as much water as possible until you start catching fish. Once you find fish, stay on them until the action drops off. Experiment by fishing different water depths, lure depths, lure colors and boat speeds and use that information to duplicate your success in other areas of the lake. Keep an eye out for sunshine bass schooling and feeding on shad at the surface of Lake Sampson as well. If you happen to see these aggressive fish busting bait at the surface, quickly make your way to the activity, but quietly close the final distance with a trolling motor to avoid spooking the fish and driving the school down. Anything white, shiny, or minnow-shaped should produce strikes in this situation. Submerged vegetation in Lake Rowell should provide a good target for bass anglers. Soft plastics and deep diving crankbaits are some of the most popular choices. Extensive offshore mats of hydrilla and southern naiad may impede boating and fishing access, so proceed with caution.While water levels are low at the start of the season, high water could make it harder for boats to pass under the railroad trestle into Lake Rowell.
Popular Species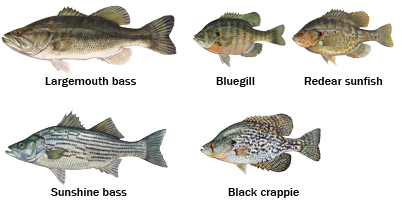 Fish graphics by Duane Raver, Jr.
More species information is available for:
Largemouth bass, Bluegill, Redear sunfish, Striped bass, Black crappie

TrophyCatch Tracker
TrophyCatch is FWC's citizen-science program that rewards anglers for documenting and releasing trophy bass 8 pounds or larger. The following TrophyCatch bass have been submitted from Lake Sampson and Lake Rowell:
Lunker Club (8 – 9.9 pounds): 13
Trophy Club (10 - 12.9 pounds): 3