Doctors Inlet, St. Johns River, and Black Creek
Doctors Inlet, St. Johns River, and Black Creek
Clay County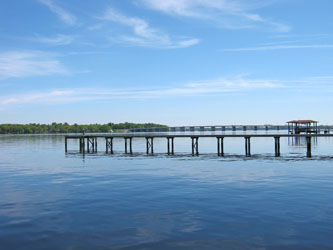 Both the inlet and the hard sand bottom areas in this stretch of the St. Johns (south of I-295) offer great fishing for largemouth bass and redear sunfish. Schooling bass are present all year and redear are caught spring, summer and fall. If you enjoy wade fishing, this is a great stretch of river.
Nearby Black Creek is deep with vegetated shorelines. It is a good water body for black crappie year-round and all riverine panfish (especially redbreast and bluegill sunfish) during spring, summer and fall. During the summer heat, striped bass may utilize Black Creek if water temperatures are lower than out in the St. Johns.
Local contact: Whitey's Fish Camp 904-269-4198.
This is a great time of year to fish for largemouth bass in the St. Johns River and its tributaries and trophy bass have been caught this year.The post-spawn period and warming temperatures should ramp up bass feeding activity. Anglers will want to fish around ledges and under floating vegetation.Docks, bridge pilings, and snags are also worth a look. Another favorite area is Julington Creek and its side creeks and canals. This section of the St. Johns River is tidally influenced, so bass tend to move where cover is optimal for feeding. Look for structure that allows fish to rest in the current, while feeding on passing items being carried by the rising or falling tides. Black Creek is another great spot to fish for bass and bream. The spatterdock edges that line Black Creek provide great cover and attract fish to the shallower areas. Common artificial baits are great for pulling in bass, while live bait, such as worms and crickets, is very effective for bream, especially redbreast sunfish. Anglers in Doctors Lake and other sections of the lower St. Johns River should look to target redfish and spotted seatrout in deeper holes and around dock and bridge pilings with both live and artificial offerings.
Popular Species

Fish graphics by Duane Raver, Jr.
More species information is available for:

TrophyCatch Tracker
TrophyCatch is FWC's citizen-science program that rewards anglers for documenting and releasing trophy bass 8 pounds or larger. The following TrophyCatch bass have been submitted from the St. Johns River area, Black Creek, and Doctors Inlet:
Lunker Club (8 – 9.9 pounds): 141
Trophy Club (10 - 12.9 pounds): 32