Doctors Inlet, St. Johns River, and Black Creek
Doctors Inlet, St. Johns River, and Black Creek
Clay County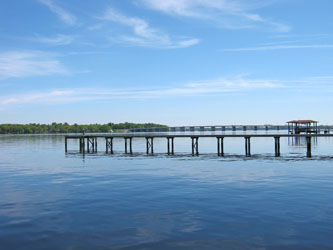 Both the inlet and the hard sand bottom areas in this stretch of the St. Johns (south of I-295) offer great fishing for largemouth bass and redear sunfish. Schooling bass are present all year and redear are caught spring, summer and fall. If you enjoy wade fishing, this is a great stretch of river.
Nearby Black Creek is deep with vegetated shorelines. It is a good water body for black crappie year-round and all riverine panfish (especially redbreast and bluegill sunfish) during spring, summer and fall. During the summer heat, striped bass may utilize Black Creek if water temperatures are lower than out in the St. Johns.
Local contact: Whitey's Fish Camp 904-269-4198.
Bluegill and redear sunfish can be found along the sandy bottom areas around submerged vegetation, drainage canals and along the drop-offs. Worms, crickets or grass shrimp fished on the bottom work best when targeting these two species. Largemouth bass anglers can expect to find fish hiding in shoreline habitat. Anglers should target the edges of submerged vegetation along banks, sharp bends and drop-offs near shallow bars. If water levels are up through January, bass will move up into protected areas behind bulrushes and into wind protected coves as they prepare to spawn. Most of the traditional methods for taking bass will work. Striped bass are active by bridge pilings from Doctor's Inlet downstream towards downtown Jacksonville. They are caught on heavy jigs or live bait fished deep. In February and March, they are also active at bridges farther upstream such as the Buckman and Shands bridge.
Popular Species

Fish graphics by Duane Raver, Jr.
More species information is available for:

TrophyCatch Tracker
TrophyCatch is FWC's citizen-science program that rewards anglers for documenting and releasing trophy bass 8 pounds or larger. The following TrophyCatch bass have been submitted from the St. Johns River area, Black Creek, and Doctors Inlet:
Lunker Club (8 – 9.9 pounds): 134
Trophy Club (10 - 12.9 pounds): 28