Columbia County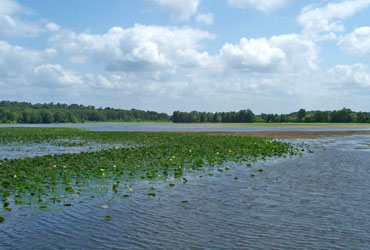 Alligator Lake (approximately 800 acres) is located in Columbia County near Lake City. Nearly two-thirds of the total lake surface area is within the city limits. Prior to 1997, only 338 acres were accessible to the public. Subsequently, Columbia County purchased an adjacent 987 acres with money obtained through the Preservation 2000 Communities Trust. This purchase included nearly 450 acres of former lake bottom that were diked and drained for agricultural practices in the 1950's and 1960's.
Several sinkholes are located in the north and south basins of the lake which provide direct connection to the aquifer. One of these sinkholes has been responsible for frequently draining the northern lake basin. This results from increased hydraulic pressure upon sinkhole sediments as groundwater levels subside during periods of drought. During these events, the southern areas of the lake retain water, as a shallow connection exists between north and south basins.
Columbia County's Alligator Lake Park opened in April 2002. The entrance to the park can be found off of Old Country Club road in Lake City. A small boat launch on the north marsh central drainage canal and walking access or boatless fishing will provide unique angling opportunities.
Note: Alligator Lake is a Fish Management Area (license is required to fish in north and south lake basins and north and south marshes).
There is current water level information available.
Note – Anglers and Hunters:  The north and south marshes are established as Alligator Lake Small Game Hunting Area (ducks only).  The north marsh area is restricted on Mondays and Thursdays until noon.  The south marsh area is restricted on Mondays, Tuesdays and Thursday until noon.
Local contacts: Greens Marine and Sporting Goods, Lake City 386-755-5390; Rooster's Outfitters 386-234-0851
Water levels are low and were dropping. Boards were put into place at the water control structures to keep water in the marsh. Low water and dense vegetation can make navigation difficult. The south basin is shallower; the north basin has more dense vegetation. Boat ramps are clear. Remember, the canoe launch at Alligator Park is an option to fish in the marsh. Panfish bedding time is in full swing and peaks around the full moon dates. One preferred spawning location is located directly out from the fishing pier in the southern basin. Crickets, mealworms, or wigglers are all excellent choices for enticing strikes from the lakes collection of panfish. Or, bring a small mesh, long handled dip net and try collecting some grass shrimp to use as bait. Panfish thrive in present conditions and should grow rapidly from the abundance of forage items. Try catching four different species of panfish in one day to qualify for the Bream Slam Certificate in our Big Catch program. Largemouth bass anglers should use soft plastics pitched into nearshore cover like vegetation mats and snags and live golden shiners along edges and breaks in the hydrilla. Using snagless frogs near woody debris or overhanging brush is a proven method this time of year. With the warm weather, fishing early or late with spinner baits and top water plugs tends to be productive. Try fishing the deep-water areas along the edge of the dyke, on both the lake and marsh side. In the south basin, look for deep-water refuge like the bend near the cypress head on the northern edge, or in the small cove behind the football stadium. Some large crappie were seen during routine bass sampling. Black crappie anglers should troll minnows or small jigs offshore in deeper water. Stinky baits and earthworms are good baits for catfish.
Popular Species

Fish graphics by Duane Raver, Jr.
More species information is available for:

TrophyCatch Tracker
TrophyCatch is FWC's citizen-science program that rewards anglers for documenting and releasing trophy bass 8 pounds or larger. The following TrophyCatch bass have been submitted from Alligator Lake:
Lunker Club (8 – 9.9 pounds): 83
Trophy Club (10 - 12.9 pounds): 16
Hall of Fame Club (13+ pounds): 1