Columbia County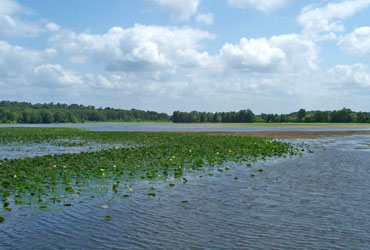 Alligator Lake (approximately 800 acres) is located in Columbia County near Lake City. Nearly two-thirds of the total lake surface area is within the city limits. Prior to 1997, only 338 acres were accessible to the public. Subsequently, Columbia County purchased an adjacent 987 acres with money obtained through the Preservation 2000 Communities Trust. This purchase included nearly 450 acres of former lake bottom that were diked and drained for agricultural practices in the 1950's and 1960's.
Several sinkholes are located in the north and south basins of the lake which provide direct connection to the aquifer. One of these sinkholes has been responsible for frequently draining the northern lake basin. This results from increased hydraulic pressure upon sinkhole sediments as groundwater levels subside during periods of drought. During these events, the southern areas of the lake retain water, as a shallow connection exists between north and south basins.
Columbia County's Alligator Lake Park opened in April 2002. The entrance to the park can be found off of Old Country Club road in Lake City. A small boat launch on the north marsh central drainage canal and walking access or boatless fishing will provide unique angling opportunities.
Note: Alligator Lake is a Fish Management Area (license is required to fish in north and south lake basins and north and south marshes).
There is current water level information available.
Note – Anglers and Hunters:  The north and south marshes are established as Alligator Lake Small Game Hunting Area (ducks only).  The north marsh area is restricted on Mondays and Thursdays until noon.  The south marsh area is restricted on Mondays, Tuesdays and Thursday until noon.
Local contacts: Greens Marine and Sporting Goods, Lake City 386-755-5390; Rooster's Outfitters 386-234-0851
Water levels are holding in the lake. As long this continues, fishing should continue to improve and is expected to be excellent within the next couple years. Bass will be closer to shore between cold fronts and feeding will increase as they prepare to spawn. Using a slowly retrieved weedless rigged plastic worm near vegetation or snags is a proven tactic this time of year. Golden Shiners fished on the edge of vegetation are of course always an option. Black Crappie should move in tight to cover later in the winter and can be taken dropping minnows or jigs in openings in the vegetation or in sinkholes. Panfish feeding should increase throughout this quarter as they begin bedding later on. Catch these with crickets, grass shrimp, or worms. Anglers looking to catch catfish should fish earthworms or cut bait on the bottom.
Popular Species

Fish graphics by Duane Raver, Jr.
More species information is available for:

TrophyCatch Tracker
TrophyCatch is FWC's citizen-science program that rewards anglers for documenting and releasing trophy bass 8 pounds or larger. The following TrophyCatch bass have been submitted from Alligator Lake:
Lunker Club (8 – 9.9 pounds): 94
Trophy Club (10 - 12.9 pounds): 18
Hall of Fame Club (13+ pounds): 1