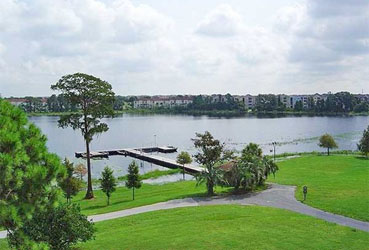 The "Forecast" tab provides a general quarterly fishing forecast for the Fish Orlando program. For even more up-to-date information, we suggest you call or visit a local bait-and-tackle shop or guide service. At times we will provide information for some local contacts, which indicated they were willing to be listed herein.
Fish Orlando!'s mission is to create and promote convenient, quality fishing opportunities in the greater Orlando area. Initiated by the Florida Fish and Wildlife Conservation Commission (FWC) in 1998, the program is supported by the City of Orlando, City of Ocoee, City of Winter Park, Orange County, BASS PRO SHOPS and a variety of other businesses and volunteer/civic groups.
For a complete listing of directions to public fishing opportunities in Orange County, contact our office for a free copy of the Fish Orlando! Fishing Map (1601 Scotty's Road, Kissimmee, Florida 34744; phone: 352-732-1225; email: fishorlando@MyFWC.com).
A calendar of Fish Orlando Area Events is available.
January - March 2019
Fish Orlando! "We're bringing quality fishing to families."
Starke Lake: The once prevalent submersed vegetation that was eradicated by the winter 2012 hydrilla treatment has recovered completely. Since then problems with blue-green algae have kept the bass fishing from recovering to historic levels, however, the latest winter 2018 survey showed some improvement over the entire lake. The exception to this was the Prima Vista lobe located in the SW corner of the lake. The largemouth bass should be moving into the grass areas to spawn. Try flipping soft plastic craws inside areas that have cattails (tall flat stemmed grasses that can grow 6 feet or higher). Also try casting u-vibe speed worms Texas-rigged on 1/8 oz weights in the pads and grass. A lipless or shallow running crankbait fished so that it hits the tops of the submerged vegetation is a good method to check for active fish. If lipless crankbaits don't work switch to flukes, Carolina-rigged plastic baits or try a wacky rigged finesse worm or trick worm.
Turkey Lake: Like Starke Lake, largemouth bass should be in spawning mode. Topwaters or soft plastic jerk baits cast back into the emergent grass pockets are usually productive. If bites do not come with an active retrieve, try "dead sticking" i.e. leaving the lure sit motionless for a minute or two at a time. A Seinko rigged weedless is also another good lure to try if the bite is slow. The area where the two lobes of the lake come together in a bottleneck is often a good spot. If a cold front sweeps through, fishing can be tough, but occasionally probing the dredge areas in the lake using crankbaits and Carolina-rigged plastic worms can save a trip. The dredge areas are listed on a topographical map, which can be obtained by emailing or calling the Fish Orlando office (see contact information above).
Black crappie (Speck) fishing is usually good this quarter and minnows is one of the best ways to catch these good eating fish. Try drifting and/or trolling minnows or jig/minnow combinations at different depths and speeds in the south lobe of the lake, or in the north lobe straight out from the fixed fishing pier towards the boat concession area.
Due to deed restrictions there is no public boat access on Turkey Lake, but the FWC, the City of Orlando and Bass Pro Shops Orlando have teamed together to provide a Boat Loaner Program where four boats can be rented for only $32 each (7 a.m. – 11:00 a.m.; Thurs - Sun). Call the City of Orlando's Bill Frederick Park at 407-299-5581 to reserve a boat. A few close places to purchase crappie minnows are Palmer Feed Store in downtown Orlando (407-841-8924), Get Hooked Bait and Tackle in Ocoee (407-347-3072) or Ace Hardware in Winter Garden (407-656-2593).
Lake Underhill: Plans are in the works to treat hydrilla in the south lobe sometime in winter 2018, but thanks to conservative practices, there still should be plenty to fish in the lake. Try a fluke, seinko or wacky rigged bait on the inside edges of the hydrilla. You can also try flipping both the shoreline and lakeward edges of the topped out vegetation around these dredge holes when the sun is high. If the shallow bite is not on, use your depth finder to find where the deeper open water hydrilla fades to a clean bottom i.e. a breakline. Try crankbaits, Carolina-rigs and a drop shot rig with a small 4" straight-tail worm along this deep breakline. When they are active try spinnerbaits and hard jerk baits.
Ivanhoe: With the majority of bass in spawn mode, fishing should begin to be productive up close to the bank. Try the edges of the submersed vegetation with finesse plastic worms or soft jerk baits. If this is unproductive try fishing around the emergent vegetation (i.e. pads, bulrush and cattails). If the fish are not active try rigging the baits "wacky" style or fishing them in a dead stick manner.
Clear Lake: Hybrid striped bass fishing is at its peak this quarter. Both 1+ and 2+ year old hybrids should be available for the winter fishery, and if it's anything like last year, the fishing will be very good. Try fishing the deep holes with crappie minnows or a small domestic shiner fished at different depths. Concentrate on the holes where bait is marked on the depth finder. The bite is usually better when a cold front is coming in from the north with overcast skies and a little rain. The deeper areas are listed on a topographical map, which can be obtained by emailing or calling the Fish Orlando office (see contact information above). Minnows can be purchased at Palmer Feed Store which is located just a few minutes from the lake (407-841-8924).
Urban Ponds (Barnett Park Frog Pond, Bear Creek, Lake Island Park, and Santiago): Because the URBAN PONDS have been primarily put-and-take channel catfish fisheries, channel catfish are a warm water species, and the migrating cormorants usually have eaten most of the catfish by January, this quarter can often be a bust. If the weather warms during this quarter try for catfish using chicken liver rigged on a #6 or # 8 hook around the "Baited Fishing Area" signs.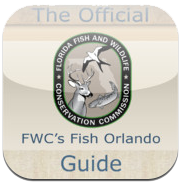 "Fish Orlando!" iPhone App
This app will give you key information about the "Fish Orlando!" sites, where they are, their amenities, what the target species are at each location, and even a map to show you the way. More information is available at the iTunes store or by searching "Fish Orlando" in the App Store on your iPhone.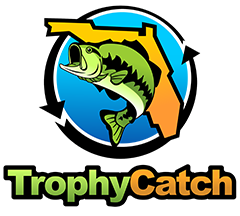 TrophyCatch Tracker
TrophyCatch is FWC's citizen-science program that rewards anglers for documenting and releasing trophy bass 8 pounds or larger. The following TrophyCatch bass have been submitted from Fish Orlando sites:
Lunker Club (8 – 9.9 pounds): 28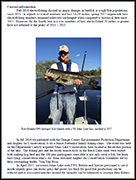 Fish Orlando Annual Report
The Fish Orlando Annual Report is now available online. It includes fisheries research and information on the Fish Orland waters straight from the biologists!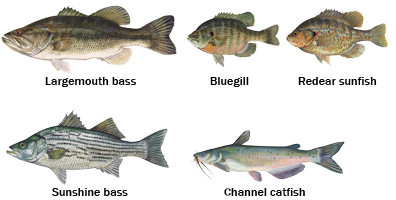 Fish graphics by Duane Raver, Jr.
More species information is available for:
Largemouth bass, Bluegill, Redear sunfish, Sunshine bass, Channel catfish