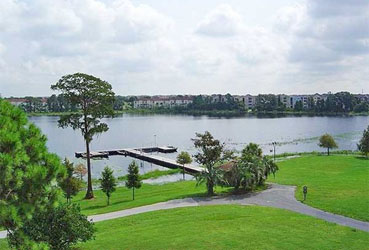 The "Forecast" tab provides a general quarterly fishing forecast for the Fish Orlando program. For even more up-to-date information, we suggest you call or visit a local bait-and-tackle shop or guide service. At times we will provide information for some local contacts, which indicated they were willing to be listed herein.
Fish Orlando!'s mission is to create and promote convenient, quality fishing opportunities in the greater Orlando area. Initiated by the Florida Fish and Wildlife Conservation Commission (FWC) in 1998, the program is supported by the City of Orlando, City of Ocoee, City of Winter Park, Orange County, BASS PRO SHOPS and a variety of other businesses and volunteer/civic groups.
For a complete listing of directions to public fishing opportunities in Orange County, contact our office for a free copy of the Fish Orlando! Fishing Map (1601 Scotty's Road, Kissimmee, Florida 34744; phone: 352-732-1225; email: fishorlando@MyFWC.com).
A calendar of Fish Orlando Area Events is available.
January - March 2019
Fish Orlando! "We're bringing quality fishing to families."
Starke Lake: The Lake is still suffering from algae issues. Ongoing studies and plans with the city of Ocoee are being conducted to rectify the problem. However, the peppergrass and eelgrass are back to optimal levels, and the water color has improved somewhat in the main lake. Our winter/spring 2019 surveys showed over 80 bass shocked per hour. Although our management goal is 100 bass per hour (60 per hour is good on most lakes) it appears that the bass population is trending upward with fairly abundant numbers in the 3-5lb range. Try the edges of the submerged vegetation with flukes, lipless crank baits or a Texas rigged seinko. Use dark colored plastics (junebug, redbug, black/blue, etc.) inserted with rattles to help overcome the green water color. A small four inch Tequila Sunrise worm inserted with nail weights is another trick to try if the bite is slow. This quarter bass fishing should also be good on the 3 fish attractors (marked with a FWC buoy). Crankbaits (fire tiger colors) that run approx. 6-12 feet will catch their share when the bass are active. A 1/4oz Texas-rigged plastic worm or shaky-head jig/worm combo will work when they are less active; once again use rattles in the worm weight or plastic. The fish attractors are listed on a topographical map, which can be obtained by emailing or calling the Fish Orlando office (see contact information above). Lastly, look for schooling activity first thing in the morning as the bass in the open water chase shad. Soft jerk baits such as a flukes will work, as will small jigs with shad bodies.
Turkey Lake: Largemouth bass should be done with spawning. Try the deeper pads, edges of the grassy bottlenecks, main lake points and submersed vegetation edges in the open water with lipless crankbaits, Carolina-rigged plastics (French fries, seinkos, etc.), soft jerk baits (flukes) and wacky rigged plastics. A frog, horny toad or ribbit frog in the heavy cover can get you a big bite at times. Also try casting a zara spook or devil's horse on the fish attractors (marked with a FWC buoy). The fish attractors are listed on a topographical map, which can be obtained by emailing or calling the Fish Orlando office (see contact information above). If water levels are up and water temperatures are still at or below 80o F look for the fish to stay inside the emergent grass and be susceptible to soft jerk baits and topwaters. Due to deed restrictions there is no public boat access on Turkey Lake, but the FWC, the City of Orlando and Bass Pro Shops have teamed together to provide a Boat Loaner Program where four Bass Tracker Grizzly Boats can be rented for only $32 a morning (7 a.m. – 11:00 a.m.; Fri - Sun). The boats recently were refurbished with new trolling motors, depth finders and batteries. Call the City of Orlando's Bill Frederick Park at 407-299-5581 to reserve a boat.
Lake Underhill: Bass fishing has never been better in this lake thanks to cooperation by the FWC Invasive Plant Section and the City of Orlando maintaining good coverages of submersed vegetation. The edges of the hydrilla and peppergrass with a weightless seinko, fluke, pegged 4 inch worm, weightless trick work or wacky rigged plastic should produce a bass or two greater than 4 lbs. If there is any cloud cover try crank baits, hard jerk baits or top waters that walk the dog (i.e. Zara spook, Sammy, etc.). On bright sunny days with little to no wind, pick up the flipping rod and try "punching" a craw in the deeper topped out edges of the emergent and submersed vegetation.
Ivanhoe: Try fishing for bass on the numerous drop-offs around the lake with wacky rigged plastics or Texas rigged seinkos if they are inactive. If it's cloudy or rainy they should be active and try a lipped crankbait or fluke. If the sun is high, good fish cam be caught flipping a crawfish on a 1-2oz flipping weight. In the first part of the quarter most of the fish should still be relatively shallow (6 – 8 feet) with a movement deeper (8 – 12 feet) as the weather turns warmer in May and June. Some schooling activity may occur in this quarter as well. A rattletrap fished quickly or another shad imitating crankbait or lure will usually catch the schoolers. The I-4 expansion project has pretty much left the west side of first lobe and the east side of the second lobe unfishable. However, this is relatively a small section of the available shoreline. Electrofishing conducted in winter 2019 and recent angler reports indicate very good bass fishing for fish 20 inches or bigger.
Clear Lake: Hybrid striped bass fishing slows down this quarter and the channel catfish action picks up. Richloam hatchery has stocked approximately 30,000+ catfish since November 2016 so the action should be good. Liver fished on the bottom around the numerous dredge holes should provide some action for channel catfish up to 10 lbs and brown bullhead up to a pound. The dredge areas are listed on a topographical map, which can be obtained by emailing or calling the Fish Orlando office (see contact information above). If the dredge holes do not hold fish try fishing the mouths of the numerous canals associated with the lake.
Urban Ponds (Barnett Park Frog Pond, Bear Creek, Lake Island Park, and Santiago): Because the URBAN PONDS are put-and-take channel catfish fisheries and channel catfish are a warm water species, this quarter can be very good. All four of the ponds are scheduled for spring 2018 stockings of channel catfish thanks to Orange County and the city of Winter Park promising to purchase fish from a private vendor. The FWC is paying to stock Santiago. Try fishing chicken liver rigged on a #6 or # 8 hook around the "Baited Fishing Area" signs. Night crawlers, hot dogs, bacon and wigglers are good second choices for bait. Although channel catfish are the management focus of these small ponds, some decent largemouth bass fishing can be had in Bear Creek and Santiago using wacky rigged finesse plastics and top water plugs thrown first thing in the morning. Because of their abundant small bluegill, the URBAN PONDS are also a good place to take a kid to catch their first fish. A small piece of worm or biscuit dough inserted on a #10 to #14 small hook fished under a small float or weightless is usually all that's needed. Chumming the water with bread or oatmeal can congregate the small bluegill and increase the action. Once again focus your efforts around the "Baited Fishing Area" signs.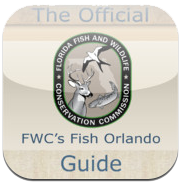 "Fish Orlando!" iPhone App
This app will give you key information about the "Fish Orlando!" sites, where they are, their amenities, what the target species are at each location, and even a map to show you the way. More information is available at the iTunes store or by searching "Fish Orlando" in the App Store on your iPhone.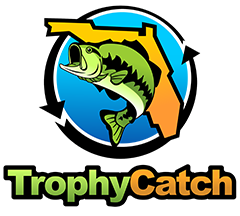 TrophyCatch Tracker
TrophyCatch is FWC's citizen-science program that rewards anglers for documenting and releasing trophy bass 8 pounds or larger. The following TrophyCatch bass have been submitted from Fish Orlando sites:
Lunker Club (8 – 9.9 pounds): 32
Trophy Club (10 - 12.9 pounds): 32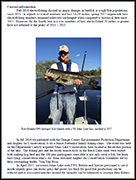 Fish Orlando Annual Report
The Fish Orlando Annual Report is now available online. It includes fisheries research and information on the Fish Orland waters straight from the biologists!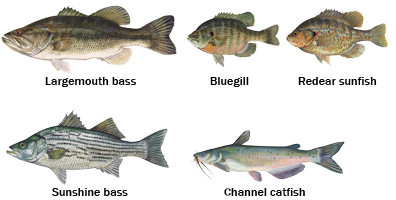 Fish graphics by Duane Raver, Jr.
More species information is available for:
Largemouth bass, Bluegill, Redear sunfish, Sunshine bass, Channel catfish