Florida Gopher Tortoise Smartphone App
Florida Gopher Tortoise Smartphone App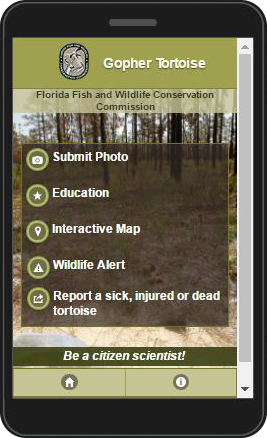 Become a citizen scientist! The FWC needs your help documenting where gopher tortoises live. You can help by downloading and using the "Florida Gopher Tortoise" smartphone application (app). With this app, you can record the location of gopher tortoises you may see in your yard, neighborhood, or crossing the road. This information will help FWC biologists better understand where populations of gopher tortoises live. The app also contains gopher tortoise information and a fun quiz to test your knowledge, learn more about this protected native Florida species, and help protect and conserve gopher tortoises.
With your help, FWC will be able to better document where gopher tortoises are living within our Florida communities, and how we can work together to protect them.
The free app is available for both Android and iOS smartphones:
Interactive map of user-submitted photos
All photos submitted to FWC of gopher tortoises are posted to an interactive map. The map allows web visitors to zoom in and see where gopher tortoises occur in your neighborhood or community. The app user also has the option to provide observation notes when submitting a photo.
Note: The map is a graphical representation provided for informational purposes and should not be considered authoritative for navigational, engineering, legal, and other uses.