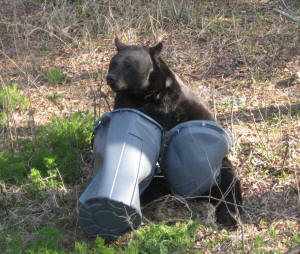 The following three objectives must be met in order to be recognized as BearWise.
Secure attractants – It is illegal to feed bears, either intentionally or unintentionally (F.A.C. 68A-4.001)

Keep garbage in a secure location (such as a sturdy shed , garage, or bear-resistant trash can ) until the morning of trash pick up
Use Bear-Resistant Trash Cans – The bear-resistant trashcan must meet the requirements of the applicable waste hauler service provider and the FWC

Use the bear-resistant trashcan to dispose of household food waste and place non-food waste in a regular trash can
Additional fees may be required by the waste-hauler to service each resident's bear-resistant trash can
If pets are fed outside, bring feed inside a secure structure (inaccessible to bears) after pets have eaten
Secure or remove bird and wildlife feeders; secure feed and grain

Report Bear Activity

Request advice or assistance with a human-bear conflicts by contacting the local FWC Regional Office
Report emergencies or illegal activity, including feeding or harming of bears, by contacting the FWC Wildlife Alert Hotline at (888) 404-3922. This number will connect you with FWC law enforcement and is available 24 hours a day, 7 days a week

Know what to do when you encounter a bear
Prepare your community to be BearWise.
Need help getting started? Additional community support is available from FWC!
Questions?  Contact the Bear Management Program at BearManagement@MyFWC.com