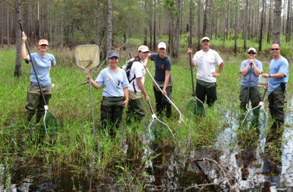 Statewide Survey for the Striped Newt
In 2005, concerns about the status of the striped newt in Florida led Fish and Wildlife Research Institute (FWRI) researchers to initiate a statewide survey to determine how many populations remain and to try to find new ones. As of late 2012, researchers had surveyed 840 ponds on 43 public conservation lands and found striped newts in 60 ponds, 39 of which were not previously known to have a newt population. This statewide survey has confirmed that the species' range has shrunk. Since 1990, researchers have found striped newts in only 11 of 18 counties where they were historically documented.
Researchers are continuing to survey additional locations and check previously-sampled ponds to gather more recent information. Findings from this study will provide a more definitive picture of striped newt population status and distribution in Florida.