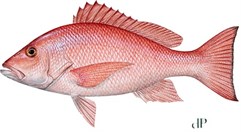 The State of Florida is conducting a study to better estimate the numbers of red snapper that are harvested (kept) and the condition of red snapper that are released by recreational anglers.
This information is needed to determine the health of the red snapper stock in the Gulf of Mexico and the South Atlantic to evaluate the effectiveness of current fishing regulations.
Please help by filling out the requested data in the online form at the bottom of this page after any fishing trip you take during which red snapper were harvested or released, then simply click submit!
If you prefer, you can choose to print a catch card to take with you the next time you go fishing. Complete the printed catch card while fishing and then simply drop the catch card in the mail with necessary postage.
If you catch a tagged fish, call 1-800-367-4461 and tell us what species you caught, the tag number, the length of the fish, location fish was captured, the date of capture, and if you released the fish alive or kept it.
Thank you for your participation!
Florida Regional Map
**If you are using Internet Explorer and cannot see the entire submission form below, or cannot see the Submit button, please turn off compatibility view in your browser by pressing 'Alt' on your keyboard, clicking on Tools, then Compatibility View Settings, and either unchecking "Display all websites in Compatibility View" or removing the MyFWC.com website from the box.