Tag a Permit for Research Gains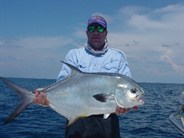 The permit, Trachinotus falcatus, is a prized catch in Florida--famously pursued over the crystal flats of the Keys along with bonefish and tarpon, but also popular off the beaches and reefs of both coasts. Commercial fishermen, hook-and-line anglers, and spear divers regard permit as tasty table fare.
Yet this prizefighter on the flats has attracted surprisingly little attention from researchers. Only one life history study, by Crabtree and others in 2001, has documented the species' age, growth, and reproduction in Florida. That study examined 536 fish, mostly from the Keys.
To obtain more statewide information on the species, the Florida Fish and Wildlife Conservation Commission (FWC) and the private Bonefish & Tarpon Trust launched Project Permit in March 2010. The trust proposed the collaborative study after obtaining a grant from Costa Del Mar, which agreed to supply funds for the tagging kits for three to five years.
The project depends upon permit anglers to learn about the resource, then tag and fin-clip the fish they catch and release. Both the tag and the DNA obtained from the fin clip can be used to determine if the same fish is recaptured later. A similar study assists genetic research on tarpon.
Two kinds of data analysis will help resource managers determine whether to regulate the permit fishery statewide or develop separate rules for different regions. First, biologists will look at movement patterns (e.g., reefs to shore, reef to reef, inshore to offshore, south to north) of recaptured permit from the recreational fishery.  Second, scientists at the FWC's Fish and Wildlife Research Institute (FWRI) will examine the genetic samples to assess the population structure and determine whether permit throughout Florida's coastal and inshore waters share a single genetic stock.
Join the Permit Research Team
To obtain a free tagging kit and instructions, e-mail ProjectPermit@MyFWC.com or call 1-800-367-4461. Specify that you would like to help tag permit.
Each kit contains enough material to sample five fish. Clipping a half-inch piece of tissue from the soft rays of the anal or dorsal fin will provide enough DNA to allow them to evaluate stock structure. Anglers may hold their samples until the end of the season and deliver them at their convenience. No refrigeration is necessary, but extreme heat should be avoided. Fin clips can be mailed to the FWRI at the following address:
Attn: Project Permit
FWC Fish and Wildlife Research Institute
100 Eighth Avenue SE
St. Petersburg, FL 33701
Other data reports can be mailed, scanned and e-mailed, or submitted online. The data sheet in each tagging kit includes instructions for doing so.