Use of Prescribed Fire and Restoration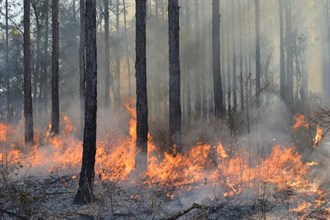 Introduction
Upland Habitat biologists are involved with a variety of projects that have many different treatment types.
One type is the use of prescribed fire. As you may know the use of prescribed fire is the most effective wildlife management tool we have here in Florida. Mechanical treatments are usually more costly and harmful for groundcover, especially in areas that have rare or endangered vegetation. Naturally-occurring fires caused by lightning once played a major role in forming and maintaining much of Florida's pinelands, sandhills, scrub areas, prairies and wetlands. Many wildlife species evolved to depend on nourishing vegetation that burst from fire-enriched soils. FWC routinely performs prescribed fires on all of its WMA's statewide. Upland Habitat biologists take all the necessary training to perform our own prescribed fires for our projects. As a result of that training we can go out and assist the land managers conducting burns when they are shorthanded.