Upland Habitat Scientists Evaluate, Monitor and Restore Florida's Natural Lands
Upland Habitat Scientists Evaluate, Monitor and Restore Florida's Natural Lands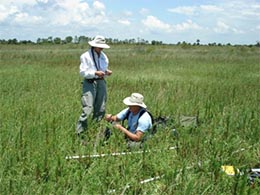 One essential component of the Fish and Wildlife Research Institute's (FWRI) mission to "protect, conserve, and manage Florida's fish and wildlife resources" is evaluating, monitoring and restoring Florida's natural upland habitat. This task falls to scientists with FWRI's Upland Habitat Research and Monitoring program. In short, Upland Habitat scientists maintain and restore the native habitats that provide food and cover for our upland wildlife species and keep our natural resources plentiful, allowing future generations to enjoy Florida's extraordinary lands.
The Upland Habitat program consists of highly skilled ecologists and botanists who analyze and monitor the ecological structure of FWC lands, develop and execute land restoration projects, and design research projects to guide land restoration. This program is critical to preserve our state's beauty and resources as Florida's residents and regular tourists have seen a drastic change in the state's natural areas. Exotic plant species replace Florida's native plants, and agricultural operations and urban development replace natural areas. The Upland Habitat team works to reverse these trends by focusing on the Native Ground Cover Restoration (GCR) program and the Objective-Based Vegetation Monitoring (OBVM) program.
The GCR program is designed to restore degraded habitat, pasture and agricultural lands to native ground cover. Once enhanced, this habitat can function more effectively and provide food and shelter for Florida's wildlife. Most restoration efforts target historical native flatwoods. Prior to human alteration, many pasture lands were once flatwoods systems. The goal is to eliminate exotic ground cover and replace it with native ground cover typical of a flatwoods system. There are approximately 20 projects underway across the state, ranging from the Apalachicola River Wildlife Environmental Area (WEA) in the Panhandle, to the Okaloacoochee Slough Wildlife Management Area (WMA) located south of Lake Okeechobee in Hendry and Collier counties.
To restore habitats to their natural state, Upland Habitat scientists must completely remove exotic grasses by disking, or plowing, the ground with a tractor and applying multiple herbicide treatments. After removal treatments, scientists prep sites with mineral-rich soil and plant seeds of carefully chosen native plant species harvested from intact flatwoods communities. After planting, scientists monitor restoration sites for five years to track changes over time and evaluate whether restoration efforts were successful. Since the GCR project began in 2005, 50 percent of restoration projects have successfully established a native ground cover that is self-sustaining over the long term. Scientists evaluate success by considering several factors, including how well the newly planted native vegetation grows, how successful they were in removing exotic vegetation and how well they prevented the encroachment of exotic bahiagrass at the edges of restored areas. To view this process step by step, take a look at the Restoring Upland Habitats Flickr photo set.
Through the OBVM program, scientists collect data essential to best manage, protect and restore the ecological structure on WMAs and WEAs. Scientists evaluate, summarize and compare the structural condition of several habitat types to desired future conditions. Over time, they monitor how vegetation responds to management practices such as prescribed burning, roller-chopping and herbicide treatments. If the vegetative structure in a given WMA or WEA does not correspond to the vegetative structure that is most desirable, land managers can use OBVM data to adapt their land management strategies and, thus, more effectively restore these lands. In short, OBVM yields data that reflects the cause-and-effect relationships between specific land management techniques and resulting land conditions.
In addition to GCR and OBVM, Upland Habitat scientists are responsible for many other land restoration and land management projects, as well as for providing scientific counsel for land management decisions. Some additional Upland Habitat projects include: Control of Cabbage Palms (Sabal Palmetto) on Tosohatchee Wildlife Management Area, a Sanibel Island Rice Rat Project ongoing research on habitat selection and use of the Sanibel Island rice rat, a research project on land management techniques for scrub habitat, and a research project monitoring isolated wetlands in support of Flatwoods Salamander habitat restoration