Update on WMA Brochure Availability
Update on WMA Brochure Availability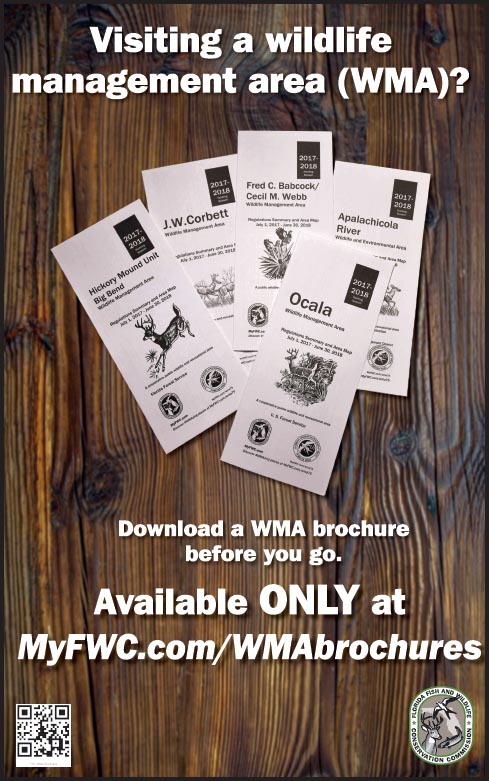 IMPORTANT UPDATE:
Beginning in 2018-2019, WMA regulations brochures will only be available at MyFWC.com and the Fish/Hunt FL app. They will not be printed.
The FWC began phasing out the mass printing of its WMA regulations brochures in 2017-2018 and instead promoted their availability via download at MyFWC.com and the Fish/Hunt FL app.
What are the benefits of providing WMA regulations brochures at MyFWC.com and the Fish/Hunt FL app instead of printing them?
Implementing this change enables the FWC to reduce waste and make more funds available for priority fish and wildlife conservation projects and outdoor education. In addition, it allows the FWC to make real time updates to ensure stakeholders have access to the most current WMA regulations information.
The vast majority of Floridians use the Internet, making electronic delivery of WMA brochures a responsible option while providing the convenience of immediate access to all WMA regulations brochures.
How can I access WMA regulations brochures in areas where I can't connect to the Internet?

Before heading afield, we recommend printing or downloading the WMA regulations brochure and map to a mobile device so you can access them without an Internet connection.
Where is the Fish/Hunt FL app available?
Download the Fish|Hunt App on Apple or Android smart phones or tablets from the App Store and Google Play.
What about the Florida Hunting Regulations, Freshwater Fishing Regulations and Saltwater Recreational Fishing Regulations?
The FWC will continue to provide printed copies of its Hunting, Freshwater Fishing and Saltwater Recreational Fishing Regulation handbooks.