Federal News
Modifications to Charter Vessel and Headboat Electronic Reporting Requirements
Commission meeting – December
Information: The FWC Commission will listen to public testimony on and discuss the following marine fisheries management items at the virtual Dec. 16-17 meeting. Unless noted, all items below are scheduled for Dec. 16.
Decision making (regulation changes are anticipated to be made on these topics):
Apalachicola oysters: The Commission will consider a proposal to temporarily suspend all wild oyster harvest from Apalachicola Bay and prohibit on-the-water possession of wild oyster harvesting equipment (tongs) through Dec. 31, 2025. The proposed rules will not apply to oyster aquaculture operations. These changes were proactively put into place Aug. 1, 2020, via Executive Order. Staff will continue monitoring oyster recovery and will evaluate whether harvest opportunities may be available prior to the end of 2025.
Flounder: The Commission will consider a proposal to make several changes to the flounder fishery. A stock status update completed by FWC suggests that flounder on the Atlantic coast may be overfished and that there has been a general declining trend statewide. Over the past few years, staff have also heard a variety of concerns and requests for management changes in the flounder fishery. The proposed rule includes an increased size limit, a reduced recreational bag limit, establishment of commercial trip and vessel limits, establishment a recreational closed season, and an extension of all proposed and existing flounder regulations into federal waters. If approved, these changes will go into effect Feb. 1, 2021.
Draft proposal (these items will be brought back to a future meeting for final decision):
Western Dry Rocks: The Commission will discuss a draft proposal to seasonally protect a multi-species spawning aggregation site in the lower Florida Keys. The proposed draft rule would prohibit fishing from May through June in a 1-square-mile area near Western Dry Rocks.
Diamondback terrapin/blue crab trap bycatch reduction devices (Dec. 17): The Commission will consider a draft proposal intended to provide additional conservation for diamondback terrapins, including prohibiting the take and possession of diamondback terrapins, incorporating permit applications for individuals legally possessing the species, requiring a maximum entrance size or bycatch reduction device (BRDs) in all recreational blue crab traps throughout the state and requiring a maximum funnel size or BRDs seasonally in commercial blue crab traps fished in some areas of the state.
Discussions (no regulation changes are anticipated on these items):
Florida pompano, permit and African pompano: The Commission will listen to a staff presentation on these fisheries and recent stakeholder requests related to their management.
Sharks: The Commission will listen to a staff presentation on the current status and management of sharks, and an overview of shark-related topics including negative interactions between fishermen and sharks.
Spiny lobster: The Commission will listen to a staff presentation on this fishery, including commercial harvesting methods, casitas and other topics.
Federal fishery management updates: The Commission will discuss outcomes of recent meetings of the South Atlantic and Gulf of Mexico federal fishery management councils.
Links for more information:
Agenda [MyFWC.com]
Red Tide Update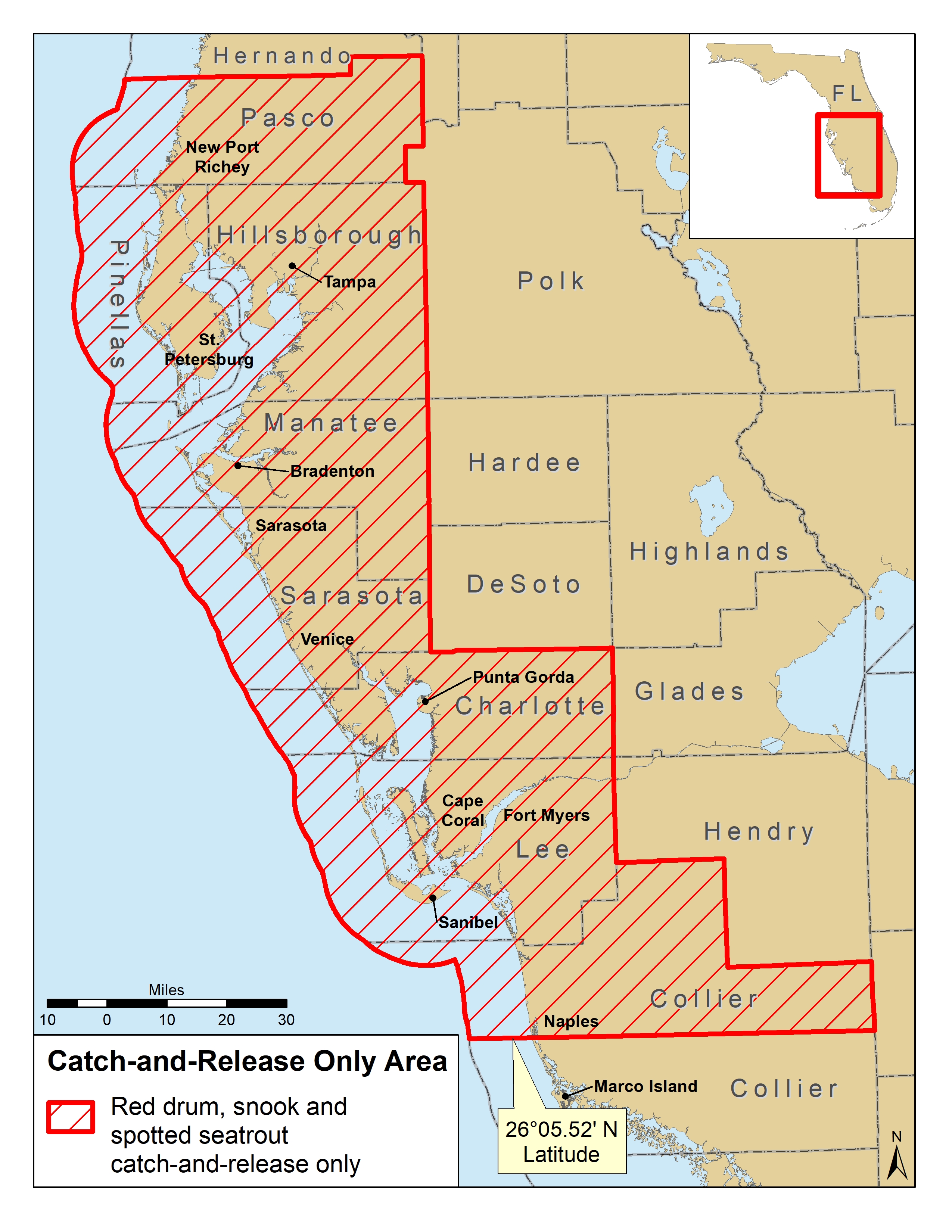 Snook, redfish and spotted seatrout catch-and-release only in areas affected by red tide through May 31, 2021. This includes all waters from Gordon Pass in Collier County north through Pasco County.
Stay in the know
Get the Marine Fisheries Monthly Newsletter and more in your email or by text
Ways to stay up-to-date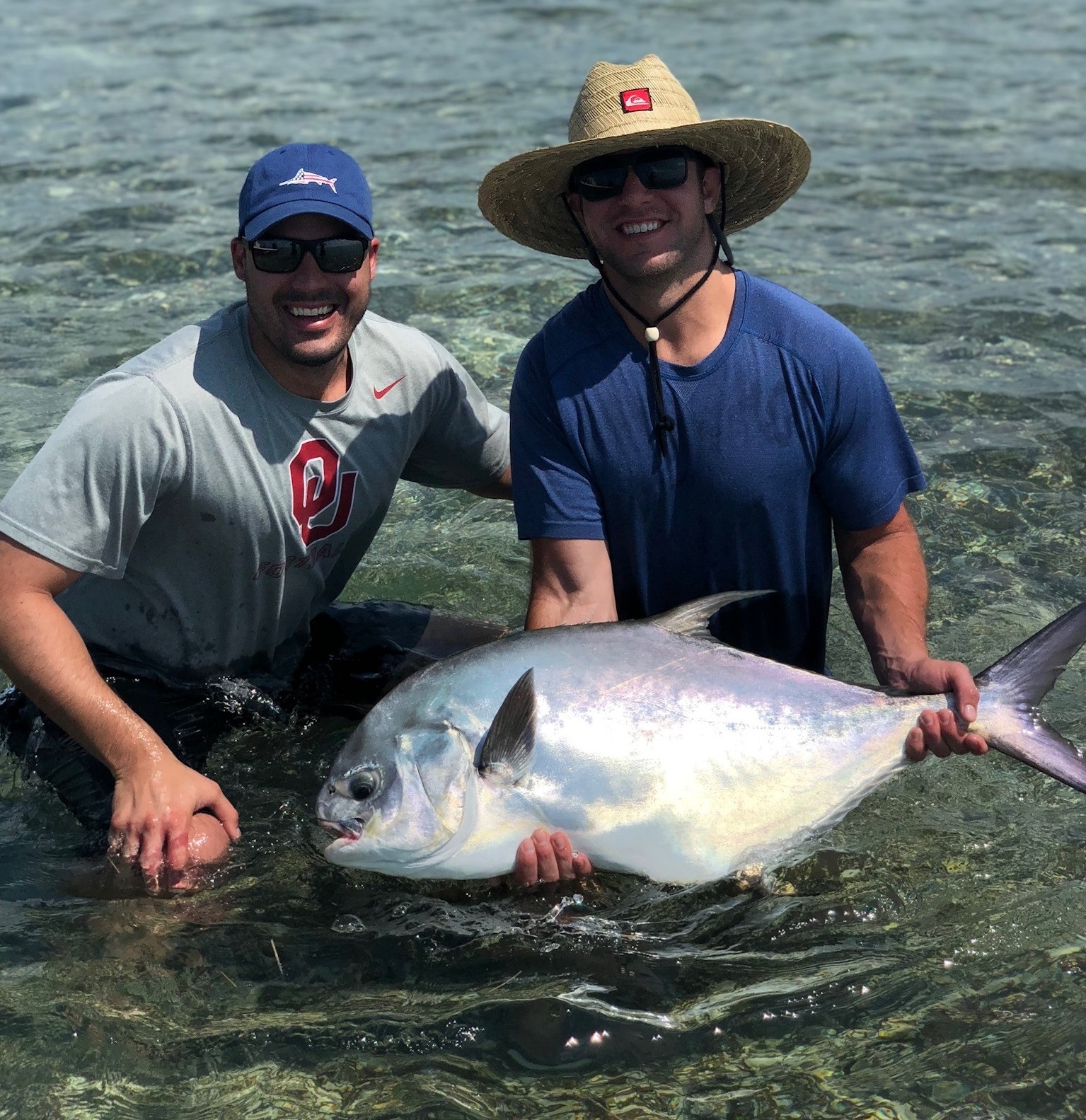 Fishing in the Know
The Marine Fisheries Management Monthly Newsletter
A quick and easy way to keep in the know about changes to state and federal regulations, current season openings and closures and Marine Fishery events.
Gone Coastal
Marine Fisheries Management Quarterly Column
This quarterly column focuses on fishing across Florida, from the best bait to catch a cobia with to how to know what to fish for on vacation.
Good to Get
Find out what species are currently open for harvest on our Good to Get page.