Florida's State Wildlife Action Plan
Florida's State Wildlife Action Plan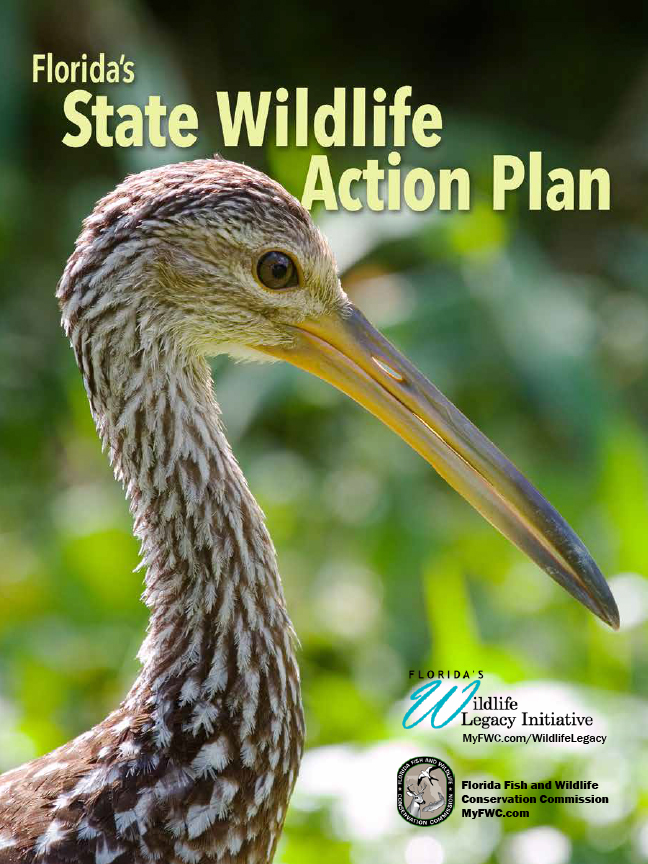 Florida's State Wildlife Action Plan (Action Plan, originally the Comprehensive Wildlife Conservation Strategy) is a comprehensive, statewide plan for conserving the state's wildlife and vital natural areas for future generations. It outlines native wildlife and habitats in need, why they are in need and, most importantly, conservation actions for protecting them. Florida's Action Plan is part of a nationwide effort by all 50 states and 5 U.S. territories to develop action plans and qualify for federal funding through the State Wildlife Grants Program.
To meet the intent of the State Wildlife Grants Program and to foster the Action Plan, FWC created Florida's Wildlife Legacy Initiative (Initiative). Through the Initiative, thousands of experts and stakeholders have participated and provided input for development and implementation of the Action Plan. These partners, including representatives from other state and federal agencies, organizations, businesses, and individuals will be integral to meeting the conservation needs of Florida.
The 2019 State Wildlife Action Plan is now available for download!
Florida's State Wildlife Action Plan has been revised and was submitted to the U.S. Fish and Wildlife Service for approval in October 2018. The new (not yet approved) Action Plan can be viewed here. To receive updates on the Action Plan, Florida's State Wildlife Grants Program and other Legacy Initiative news please visit the GovDelivery subscription page to sign-up.
Download 2012 Action Plan Chapters
Foreword and Executive Summary includes the Guiding Principles of the Initiative and the State Wildlife Action Plan (Table of Contents also included).
Chapter 1: Introduction provides information about Florida's natural resources, including climate and landscape, people and economics, wildlife and ecosystems, and approach to conservation. This chapter introduces the highest priority statewide threats and key conservation challenges as identified in the Action Plan.
Chapter 2: Florida's First Five Years of Action Plan Implementation describes how FWC worked with partners to establish goals to guide implementation of the Action Plan since its inception.
Chapter 3: Species of Greatest Conservation Need (SGCN) lists 1036 species in Florida that are imperiled or at risk of becoming imperiled in the future. The process and criteria used to identify these species are presented, along with a table listing all of the SGCN.
Chapter 4: Florida Adapting to Climate Change provides a short synthesis of climate science in relation to Florida, a
vulnerability assessment on focal species, and recommendations for adaptation actions. 
Chapter 5: Basin Approach to Conserving Florida's Freshwater Habitats and Species outlines how basins were evaluated and ranked based on three criteria; species diversity, threats to the habitat, and future condition. 
Chapter 6: Habitats describes 45 terrestrial, freshwater, and marine habitat categories that comprise the state of Florida. Eighteen habitats have been identified as being under the greatest overall threat.
Chapter 7: Multiple Habitat Threats and Conservation Actions details 32 priority threats that address multiple habitats. Each threat description lists the habitat categories to which it applies, summarizes the highest priority conservation actions addressing that threat, and presents recommended and ranked actions.
Highest Priority Statewide Threats
> Alterations of the physical environment
> Degradation of water resources
> Incompatible fire management
> Introduced plants and animals
High Priority Actions
The following broad actions are discussed in the Action Plan and are considered high priority actions to abate multiple threats within terrestrial and aquatic systems statewide:
> Development of voluntary, incentive-based programs for conservation
> Acquisition and protection of important lands and waters
> Coordination of conservation efforts through partnership development
> Public education and awareness of conservation issues
> Research and monitoring of species and habitats
> Conservation planning (species assessments and systematic, landscape-based efforts)